18/01/2020 – 07/03/2020
Eröffnung: Freitag, 17. Januar 2020, 18–21 Uhr
Opening: Friday, 17 January 2020, 6–9 pm
Nagel Draxler Kabinett
Rosa-Luxemburg-Str. 33
10178 Berlin
Öffnungszeiten / Hours:
Dienstag – Samstag: 11 – 18 Uhr / Tuesday – Saturday: 11 am – 6 pm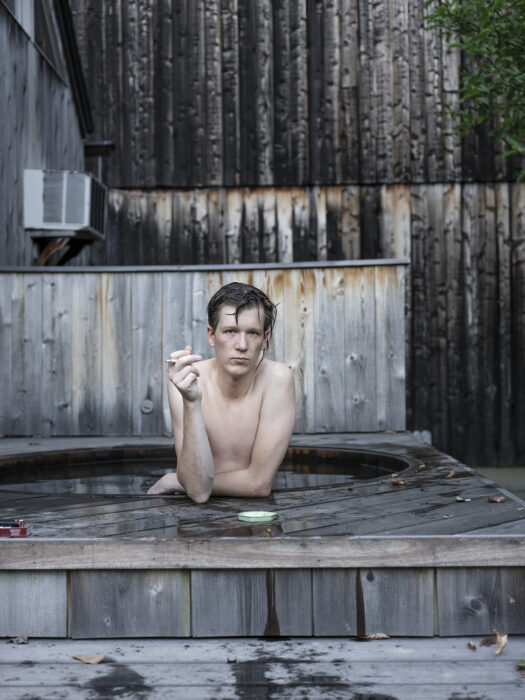 Press Release
"Der deutsche Fotograf Albrecht Fuchs, 1964 in Bielefeld geboren, hat eine zurückhaltende Art, Menschen zu portraitieren. Er scheint sich ihnen – meist sind es Künstler, aber er hat auch Joschka Fischer oder Isabella Rossellini fotografiert – auf Zehenspitzen zu nähern, scheint ohne grosses Aufhebens an sie heranzutreten, um seine Kamera dann aus einem respektvollem Abstand auf sie zu richten. Fast schon asiatisch höflich wirkt das, gleichzeitig klar und genau.  [...] Ob nun der Designer Dieter Rams in seinem Haus bei Frankfurt steht, ob Ennio Morricone auf seiner Aufnahme aus dem Jahr 1994 auf dem Sofa seines Barock überladenden Wohnzimmers sitzt, oder Mike Kelley zwischen Kakteen und Amaryllis in Los Angeles – es geht von allen Bilder eine angespannte Ruhe aus, eine merkwürdige Dichte und Konzentration, als dächten die Menschen, die zu sehen sind, gerade an das Geheimnis, das sie ausmacht – und es zeugt von der Eleganz dieses Fotografen, dass er es Ihnen nicht zu entreißen versucht."
Johanna Adorján, aus dem Artikel "Die neue Höflichkeit"  in der FAS
"Zwischen dokumentarischer Beobachtung und inszenatorischer  Huldigung tut sich ein weites Feld auf und Albrecht Fuchs ist es gelungen, eine eigene Haltung zu entwickeln, die die Beziehung von Modell und Fotograf in den Mittelpunkt stellt [...] Fuchs hält kein Lächeln in den Gesichtern fest, die Menschen schauen ernsthaft und meist sympathisch mit leicht entrücktem Gesichtsausdruck dem Betrachter scheinbar direkt ins Gesicht. Und wir als Zuschauer mustern die dargestellte Person genau, tasten ihre Oberfläche ab und sind durch ihren im Titel angegebenem Namen und Datum der Aufnahme in der Lage, einen Moment im Leben dieser Menschen miterleben zu können, mit dokumentarischer Echtheitsgarantie für diesen Augenblick." Georg Elben
In seiner zweiten Einzelausstellung bei Nagel Draxler kombiniert Albrecht Fuchs neue Portraits von Künstlern wie Keren Cytter, Charline von Heyl, Raymond Pettibon und Egan Frantz mit älteren, zum Teil noch nicht gezeigten Arbeiten wie Portraits von Kader Attia in Boston 2007 und Martin Kippenberger in Köln 1995.
Albrecht Fuchs lebt und arbeitet in Köln. Zuletzt waren seine Arbeiten in Gruppen- und Einzelausstellungen u.a. im Kölnischem Kunstverein, Kunstmuseum Bonn, in der Kunsthalle Nürnberg und dem Oldenburger Kunstverein vertreten.
Im Herbst widmet das Museum für Photographie Braunschweig ihm eine größere Einzelausstellung.
___________________
"The German photographer Albrecht Fuchs, born in Bielefeld in 1964, has a discreet way of portraying people. He seems to almost tiptoe towards them - they are mostly artists, but he also photographed Joschka Fischer or Isabella Rossellini - and he seems to approach them without much fuss in order to point his camera at them from a respectful distance. It looks almost politely Asian, at the same time clear and precise. […] Whether the designer Dieter Rams is in his home near Frankfurt, whether Ennio Morricone is sitting on the sofa of his baroque overloaded living room in his shot from 1994 or Mike Kelley between cacti and amaryllis in Los Angeles - there is a tense calmness in all these pictures, a strange density and concentration, as if the people you see are thinking of the secret that defines them - and it shows the elegance of this photographer, who does not try to snatch it from them."
Johanna Adorján, from the article "The New Courtesy" in the FAS
"There is a wide field between documentary observation and staged homage and Albrecht Fuchs has succeeded in developing his own stance that focuses on the relationship between model and photographer [...] Fuchs does not fix a smile on their faces. People look seriously and mostly sympathetically. With a slightly distant expression they look directly into the face of the viewer. And we as viewers scrutinize the person portrayed precisely, scan their surface and, thanks to the name and date stated in the title, are able to experience a moment in the life of these people, with a documentary guarantee of authenticity for this moment." Georg Elben
In his second solo exhibition at Nagel Draxler, Albrecht Fuchs combines new portraits by artists such as Keren Cytter, Charline von Heyl, Raymond Pettibon and Egan Frantz with older works, some of which have not yet been shown, such as portraits by Kader Attia in Boston 2007 and Martin Kippenberger in Cologne 1995.
Albrecht Fuchs lives and works in Cologne. Most recently, his work has been in group and solo exhibitions at the Kölnisches Kunstverein, Kunstmuseum Bonn, Kunsthalle Nürnberg and Oldenburger Kunstverein, among others..
In autumn the Museum for Photography Braunschweig dedicates a larger solo exhibition to him.