Jan Timme Without plans, without memories
07/06/2002 – 31/07/2002
Eröffnung: Mittwoch, 5. Juni 2002, 18-22 Uhr
Opening: Wednesday, June 5th, 2002, 6-10 pm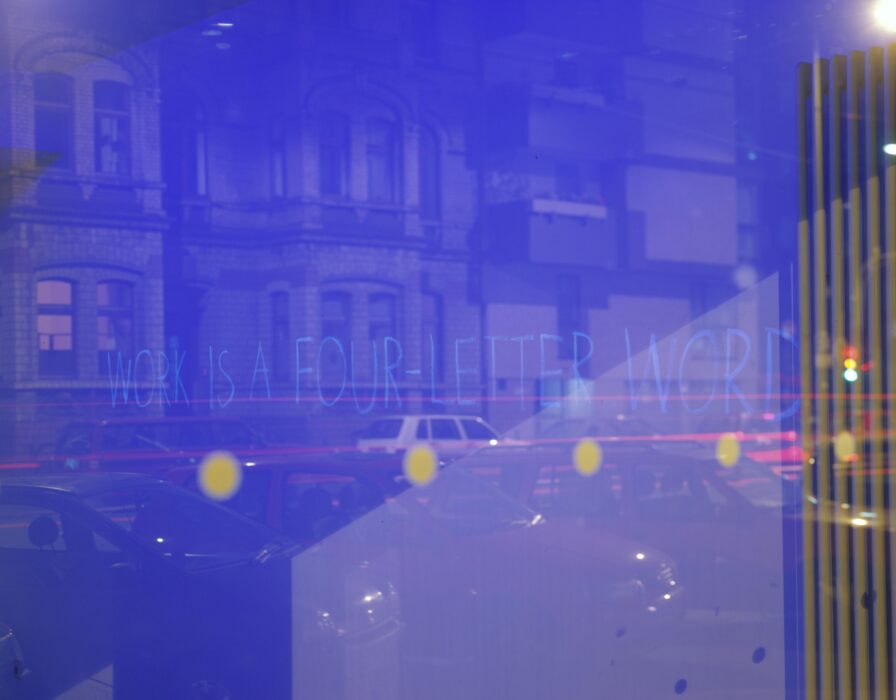 Press Release
An der hinteren Wand der Galerie Christian Nagel steht der Satz "NOTHING IS WRITTEN" mit schwarzem Schultafellack in Druckschrift geschrieben, ein Zitat aus dem Film "Lawrence of Arabia" (1959-62). Der Satz steckt voller Pläne und Erinnerungen. Er schluckt das Licht, wie ein Schatten. Schräg vor ihm, in der Nähe der gegenüberliegenden Wand, steht eine Glasvitrine auf einem weißen Sockel. Darin liegt eine Herrenarmbanduhr. Das Gehäuse der Uhr ist auf seinen Rand gelegt, es steht senkrecht. Das Band ist geschlossen. Es liegt da wie ein Kreis. Es durchläuft eine Windung. Die Windung spiegelt sich in der verchromten Rückseite des Zifferblatts. Der Satz "WORK IS A FOUR-LETTER WORD" ist der Titel eines Songs von The Smiths (1987). Er ist auf die vordere rechte Seitenwand mit Disco-Lack handgeschrieben. Tagsüber ist er kaum zu lesen. Die Leuchtstoffröhren der Deckenbeleuchtung darüber sind durch vier Schwarzlichtröhren ersetzt. Nachts ist der Satz durch die Scheiben zu erkennen, er leuchtet aus sich selbst. "Without plans, without memories." ist die Überschrift auf der Rückseite der Einladungskarte. Auf der Vorderseite der Karte ist ein Filmstill aus "Les Enfants du Paradis" (1943-45) abgedruckt. Lacenaire und Garance blicken sich im Spiegel an. Es ist ihr Blick zurück – mit der Pause im Kino sind sechs Jahre vergangen. Garance antwortet: "Was hat die Zeit mit dem Glück zu tun?" Lacenaire sagte: "Vorsicht, mein Engel, man blickt nicht zurück...".
Christine Lemke
-------------------------------------------------------------------------------
'NOTHING IS WRITTEN', a quote from the film Lawrence of Arabia (1959 – 62), is written in black blackboard paint on the rear wall of the Christian Nagel Gallery. This sentence is full of memories and plans. It swallows light, like a shadow. In front of this, to one side near the opposite wall, is a glass case on a white stand. It contains a man's wristwatch. The watch case stands on edge. The strap is fastened. It lies there like a circle. There is a twist in the strap. The twist is reflected in the chrome-plated reverse side of the watch face. The sentence 'WORK IS A FOUR-LETTER WORD' is the title of a song by The Smiths (1987). It is hand-written in disco paint on the right-hand wall at the front of the gallery. It is virtually invisible during the day. The fluorescent tubes on the ceiling above have been replaced with four ultraviolet bulbs. At night, the sentence is visible through the windowpanes; it glows as if lit from within. 'Without plans, without memories' is the heading on the back of the invitation. On the front is a film still from Les Enfants du Paradis (1943 – 45). Lacenaire and Garance are looking at themselves in a mirror. They are looking back at the past – six years have elapsed during the intermission in the film. Garance is answering 'Time has nothing to do with happiness.'. Lacenaire had said 'Take care, my angel, never look back...'.
Christine Lemke