07/02/2015 – 04/04/2015
Eröffnung: 6. Februar 2015, 19 Uhr
Opening: 6. February 2015, 7 pm
Reisebürogalerie
Diko Reisen
Komödienstraße 48
50667 Köln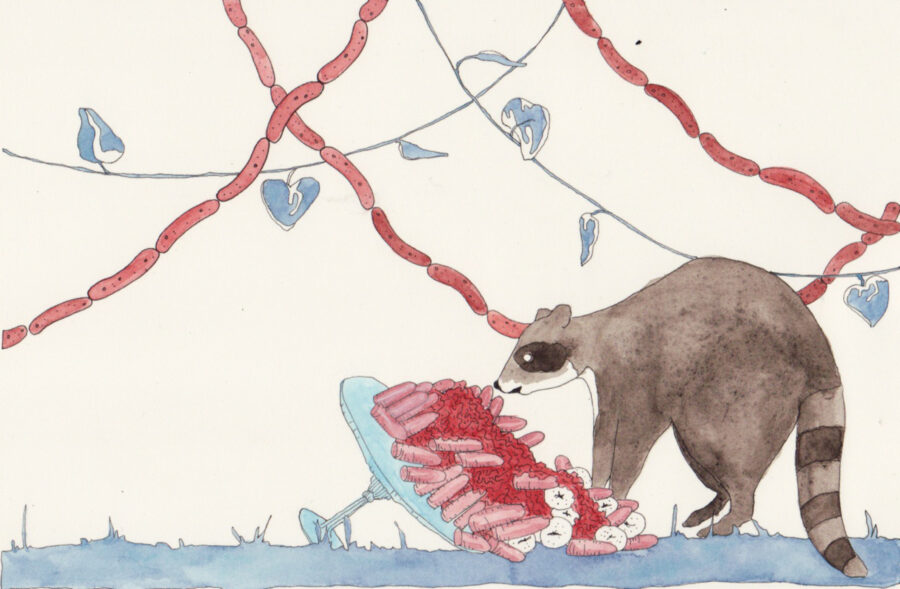 Press Release
Die Reisebürogalerie freut sich, die erste Einzelausstellung von Dana Sherwood in Europa präsentieren zu können.
Die Arbeiten der 1977 geborenen New Yorker Künstlerin vereinen Natur und Kunstfertigkeit. Sherwood untersucht die vorherrschende Semiotik des Begehrens und die an der Schnittstelle der natürlichen und der materiellen Welten präsente Melancholie. Die vielschichtige Möglichkeit der Interpretation der Arbeiten von Dana Sherwood beruht auf ihrer Verwendung von ungewöhnlichen Materialien und unkonventionellen Methoden. DIes kann den Gebrauch von organischen Materialien, aufwendigen Konditorwaren und die Einbeziehung von Tieren beinhalten, wie es in dem Video "Banquets in the Dark Wildness" zu sehen ist. Mit einer Nachtsichtkamera filmt die Künstlerin wilde Tiere, wie sie von ihr bereitgestellte Speisen auffressen.
Seit ihrem Abschluss an der Universität Maine 2004, stellte Sherwood in der Marianne Boesky Gallery (2012), in der Mixed Greens Gallery (2012), im Socrates Sculpture Park (2009), der Flux Factory (2010), bei der 'Biennial of Western NY' (2010) und bei Prospect 2 New Orleans (2011) aus. Ihre letzte größere Arbeit stellte sie für Scotiabank Nuit Blanche in Toronto her. Sie lebt und arbeitet mit ihrem Ehemann Mark Dion in New York, mit dem sie auch vielfach zusammenarbeitet.
--------------------------------------------------------------------------------------------
The Reisebürogalerie is delighted to present the first solo exhibition of artist Dana Sherwood in Europe.
Dana Sherwood (b. 1977, New York) is a New York based artist whose work lies in the collision of nature and artifice and interrogates the semiotics of desire and melancholia present at the intersection of the natural and material worlds. The complexity of interpretation lies in the use of non-traditional materials and unconventional methodologies, which can sometimes involve organic materials and elaborate confectionery as well as interventions by animals.
Since receiving a BFA from the University of Maine in 2004 Sherwood has exhibited her work in New York at Marianne Boesky Gallery (2012), as well as Mixed Greens Gallery (2012), Socrates Sculpture Park (2009), Flux Factory (2010), the Biennial of Western NY (2010) and Prospect 2 New Orleans (2011).  She recently created a new piece for Scotia Bank Nuit Blanche in Toronto, and has shown in venues throughout Europe. She currently lives in Washington Heights with her husband and frequent collaborator, Mark Dion.