03/05/2008 – 31/05/2008
Galerie Christian Nagel shows Merlin Carpenter at Mercedes-Welt am Salzufer and The Corner Berlin
"The Opening"
Eröffnung: 3. Mai 2008, 17-18:30 Uhr
Mercedes-Welt am Salzufer
Salzufer 1
10587 Berlin
"The Opening"
Eröffnung: 3. Mai 2008, 19-20:30 Uhr
The Corner Berlin
Am Gendarmenmarkt
Französische Strasse 40
10117 Berlin
The paintings at Mercedes-Benz were done by Merlin Carpenter leaning out of the window of a car being driven past by a professional Mercedes driver.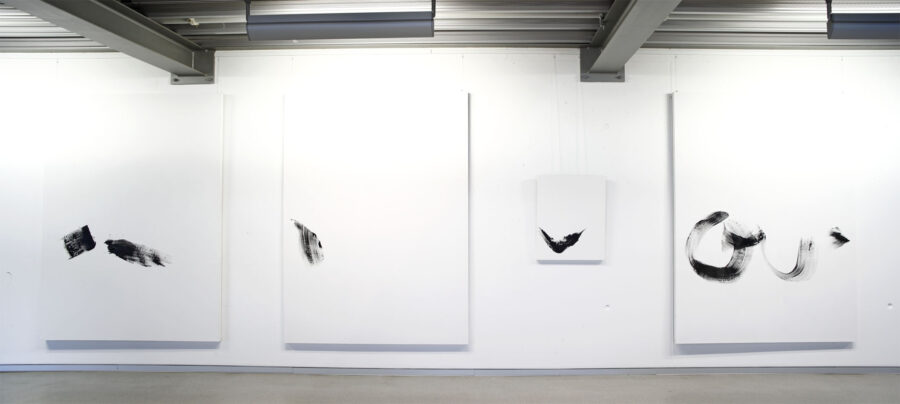 Press Release
Noch nie gab es in Berlin gleichzeitig so viele Kunsteröffnungen / openings oder Vernissagen, wie beim heute eröffnenden Gallery Weekend. 34 Galerien geben sich ein Stelldichein und weit über 100 andere folgen dem Ereignis. Im Vergleich dazu dürfte London weit abgeschlagen sein und selbst New York müsste sich Mühe geben, da mitzuhalten. Besonders auch, weil gleichzeitig keine Kunstmesse stattfindet.
Nichts außer der Kundenkartei ist im Galeriewesen mit mehr Mythos behaftet, als die Eröffnung. Wurde früher bei der Vernissage das neue Kunstwerk vor Kollegen, Freunden und etwaigen Auftraggebern gefirnisst, so werden heute die neuen Werke mit einer feierlichen Eröffnung in den Markt eingeführt. Dies ist oft der einzige Moment, wo der Künstler öffentlich auf sein Publikum trifft. Danach folgt ein oft glamouröses nur wenigen zugängliches Abendessen oder Dinner.
Merlin Carpenter ist einer der wenigen Künstler, der die Fragen der site specific art sinnvoll auf Fragen der Bildproduktion oder der Malerei anwenden kann. Seit Beginn seiner Ausstellungstätigkeit lotet er die kritischen Fragen zur Kunst und deren Vertrieb aus, in dem er das Mysterium desavouiert und seine Werke nicht als ästhetische Objekte betrachtet, sondern diese als soziale Widersprüche inszeniert und die Bedingungen ihrer Produktion aufdeckt. Ein Bild, das nicht stört, wird auf die Dauer vergessen. In einer Zeit, in der sich die Kunst immer mehr dem neoliberalen Gedankengut und "Geschmack" anbiedert, braucht man Sand im Getriebe, wobei das neoliberale System eben diesen Sand benötigt. Störung ist Produktion und Produktion ist Störung.
Im Gegensatz zu den beiden opening Veranstaltungen in Galerieräumen bei Reena Spaulings New York und Overduin and Kite Los Angeles, findet die opening Veranstaltung von Merlin Carpenter der Galerie Christian Nagel Berlin in dem Designstore The Corner Berlin und in der Mercedes Welt am Salzufer statt. Auch hier wird der Künstler vor Publikum einige Leinwände bemalen. Die Aktion ist kurz gefasst und entspricht einer Vorgehensweise des Actionpaintings. Sowohl Boutiquen als auch Galerien verkaufen Luxusgüter an spezielle Kunden.
Merlin Carpenter wurde 1967 in Pembury in Kent geboren und absolvierte seine Ausbildung von 1986-89 an der St. Martin's School of Art in London, wo er bis heute lebt und arbeitet. 1993 hatte Merlin Carpenter seine erste Einzelausstellung in Berlin bei Contemporary Fine Arts und 1998 und 2000 bei Max Hetzler. Nach drei Ausstellungen der Galerie Nagel Köln, ist dies sein erstes Projekt mit der Galerie Nagel Berlin.
C.N.
_______________
Berlin has never experienced as many simultaneous art openings as during the Gallery Weekend, which begins today. 34 galleries are joining in, and more than 100 others are following the event. London seems, in comparison, to be lagging behind, and even New York would have to take great pains to keep up the pace, especially since this occasion is not accompanied by an art fair.
Nothing in the gallery business except perhaps the mailing list is as loaded with myth as the exhibition opening. Whereas in the past the opening served to launch the new artwork into a circle of colleagues, friends and potential buyers, today the festivities function to introduce the work directly into the market. Such an event is often the only situation where the artist meets the public. This is mostly followed by a glamorous and exclusive dinner.
Merlin Carpenter is one of those rare artists who are able to apply questions of site-specific art to inquiries of image production and painting in a meaningful way. Since the start of his career, he has asked critical questions pertaining to art and its distribution. By disavowing mystery, regarding his pieces as staged social contradictions instead of merely aesthetic objects, he investigates the terms and conditions of their production. A picture that fails to disturb will be forgotten in after a while. At a time when art caters more and more to the neo-liberal mindset and "taste", one needs a bit of "sand in the gears". Yet the neo-liberal system requires this very sand. Disturbance is production and production is disturbance.
In contrast to the two other The Opening shows in the gallery spaces of Reena Spaulings New York and Overduin and Kite Los Angeles, Merlin Carpenter's opening for Galerie Christian Nagel Berlin will take place in designer shop The Corner Berlin and the Mercedes-Benz Welt am Salzufer. Here too, the artist will paint a number of canvases in the presence of the public. The activity is brief and resembles action painting. Both boutiques and galleries sell luxury goods to elite, motivated clients.
Merlin Carpenter was born in Pembury, Kent in 1967, and graduated from St. Martin's School of Art in London, where he studied from 1986-89. He continues to live and work in London. In 1993, Merlin Carpenter had his first solo show in Berlin at Contemporary Fine Arts, and in 1998 and 2000 he showed at Max Hetzler. After three exhibitions with Galerie Nagel Cologne, this is his first project with Galerie Nagel Berlin.
C.N.