22/09/2018 – 28/02/2019
Opening: September 22nd, 11:00 – 16:00
Artfactory Istanbul
Dudullu Organize Sanayi Bölgesi
1. Cadde, No: 14
Yukarı Dudullu, Ümraniye
T.+90 216 364 22 11
E. info@artfactory.com.tr
www.artfactory.com.tr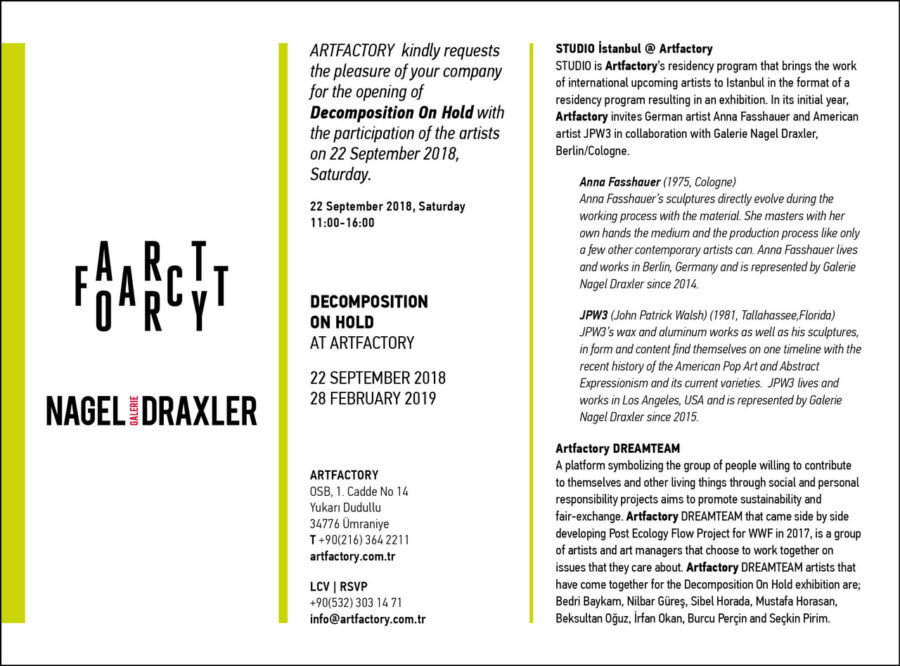 Press Release
About STUDIO:
STUDIO brings the work of international upcoming artists to Istanbul in the format of a residency program resulting in an exhibition. In it's initial year, Artfactory invites German artist Anna Fasshauer and American artist JPW3. STUDIO 2018 is a collaboration between Artfactory Istanbul and Galerie Nagel Draxler, Berlin/Cologne.
About the artists:
ANNA FASSHAUER
Anna Fasshauer's sculptures directly evolve during the working process with the material. She masters with her own hands the medium and the production process like only a few other contemporary artists can.
Born 1975 in Cologne, Anna Fasshauer lives and works in Berlin, Germany.
She is represented by Galerie Nagel Draxler since 2014.
JPW3
JPW3's wax- and aluminum works as well as his sculptures are neither connected to the recent hype of fetishized abstract gestures nor to the techno post-internet generation and their sticking to a kind of permanent present. His work in form and content instead finds itself on one timeline with the recent history of the American Pop Art and Abstract Expressionism and its current varieties.
Born 1981, Tallahassee, Forida, JPW3 lives and works in Los Angeles, USA
He is represented by Galerie Nagel Draxler since 2015.