30/10/2008 – 20/12/2008
Eröffnung: 29.Oktober 2008
Ausstellung: 30.Oktober - 20.Dezember 2008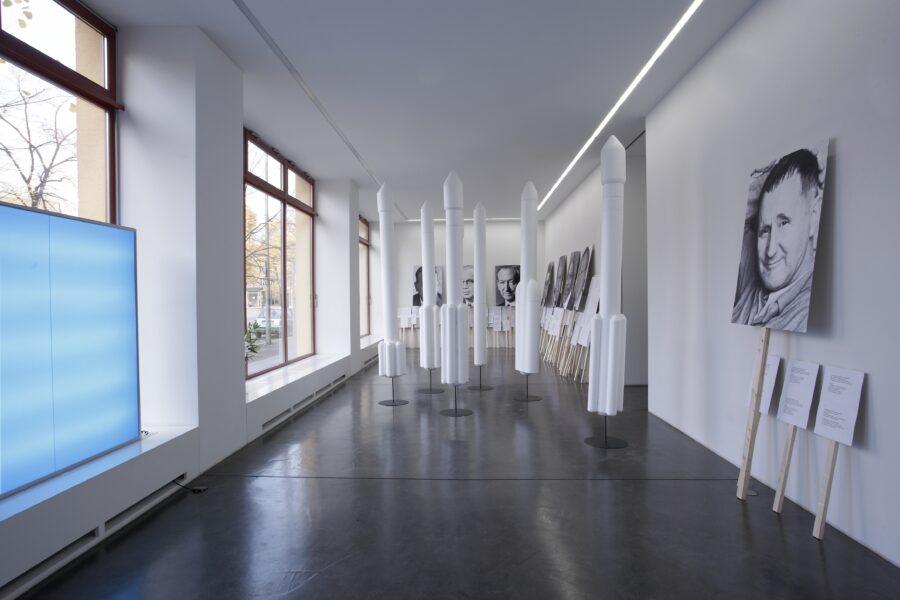 Press Release
CHRISTIAN PHILIPP MÜLLER
RESOLUTIONs
Die Repräsentationen und Imaginationen der Welt verändern sich.
In Christian Philipp Müllers zweiter Ausstellung in der Berliner Galerie von Christian Nagel verknüpft der Künstler Geschichte und Gegenwart, Welt- und Lokalpolitik, Private-, Public- und Outer Space mit einer klug inszenierten Appropriationsoptik. Entlehnt aus dem Fundus imperialistischer und kolonialistischer Bilder, überlagern sich Zeichen zerfallender imperialer Ansprüche mit den global agierenden Machtstrukturen.
Müller, der neben Archivar, Forscher, Performer, Kurator, Bildhauer, Fremdenführer und
Filmemacher noch viele andere Rollen und Methoden beherrscht, hat sich stets mit den Strukturen nationaler, politischer und sozialer Identitäten beschäftigt. Im Mittelpunkt seiner Arbeit stehen Recherchen zur Politik der Zugehörigkeit.
RESOLUTIONs kreist um die Idee der Freiheit und des Friedens im Ganzen, sowie um die Geschichte der Utopie einer friedlichen Nutzung des Weltraums im Besonderen. Die Ausstellung nimmt Bezug auf den ApollpSoyuz-Umzug auf der Manifesta 7, den Müller in Anlehnung an den Futuristen Fortunato Depero organisiert hatte und führt die Auseinandersetzung auf einer neuen Ebene von Montage-, Bild-, Text- und Musikelementen weiter.
Öyvind Fahlström inszenierte 1966 eine Aktion mit sieben Leuten, die mit Schildern des amerikanischen Komikers und Truppenunterhalters Bob Hope, sowie einem Photo von
Mao Tse-tung durch New York marschierten. Damit setzte der Künstler zwei kontrastierende Ideologien gegenüber, vertreten durch die Porträts von populären Protagonisten beider Systeme. Müller kehrt dieses Szenario um. RESOLUTIONs wird von einer Performance begleitet, die von der Galerie über die unweit gelegene Parteizentrale der Linken, zur Volksbühne führt. Die 'Demonstranten' tragen auf Schildern die Portraits der UN-Generalsekretäre. Ihre Gesichter sind uns im Allgemeinen kaum vertraut. Hier wird der Bogen zurück in die Ausstellung geschlagen, die dem Betrachter die abstrakte Macht der UNO vor Augen führt.
Der Wechsel von Lesbarkeit und Undurchschaubarkeit ist kennzeichnend für die Ausstellung. Sieben weiße "Launch Vehicles" erinnern an russische, chinesische, indische Weltraumträume, die den Rüstungsfortschritt stets mit einer Vision des weltumspannenden Friedens verbanden. Wie sehr noch heute vom utopischen Potential dieser Vorstellungen gezehrt wird, belegen die 109, seit 50 Jahren regelmäßig überarbeiteten Resolutionen der Vereinten Nationen zur friedlichen Nutzung des Weltalls.
Das auf zwei Olivenzweige als Friedenssymbol reduzierte UN-Logo zieht sich, vom Leuchtkasten über die Collagen bis zur Filminstallation, wie ein roter Faden durch die Ausstellung.
www.christianphilippmueller.net
The world's representations and imaginations are changing.
In his second exhibition in the gallery's Berlin space, Christian Philipp Müller connects history and presence, world and local policies, private-, public and outer space, put into cleverly appropriated looks. Symbols of decaying imperialistic requirements, borrowed from a pool of imperialistic and colonial images, interfere with symbols of globally acting power structures.
Besides being an archivist, explorer, performer, curator, sculptor, tour guide, filmmaker and much more, Müller always focused on structures of national, political and social identities. Research about the policy of belonging constitutes the center of Müller's artistic work.
RESOLUTIONs deals with the idea of freedom and peace in total as well as with the history of the utopistic idea of a peaceful use of the outer space. The show refers to the ApolloSoyuz procession at the Manifesta 7, which Müller organized with reference to the futurist Fortunato Depero. Herewith he leads the topic on a new medial level including elements of music, images, texts and montage.
In 1966 Öyvind Fahlström arranged a march in New York where seven people carried markers showing the American comedian Bob Hope and a photo of Mao Tse-tung. With this action Fahlström juxtaposed two contrasting ideologies, represented by portraits of popular protagonists of two different systems.
Müller inverts this scenario. RESOLUTIONs is accompanied by a performance which starts at the gallery and goes further to the party headquaters of "Die Linke" and finally to the Volksbühne and back. The "demostraters" carry markers with portraits of the UN-Secretary-Generals. Their faces are slightly known and make the visitor aware of the abstract power of the UNO.
www.christianphilippmueller.net