20/04/2009 – 23/05/2009
Eröffnung: Sonntag, 19. April 2009, 18-21 Uhr
Opening: Sundy, 19. April 2009, 6-9 pm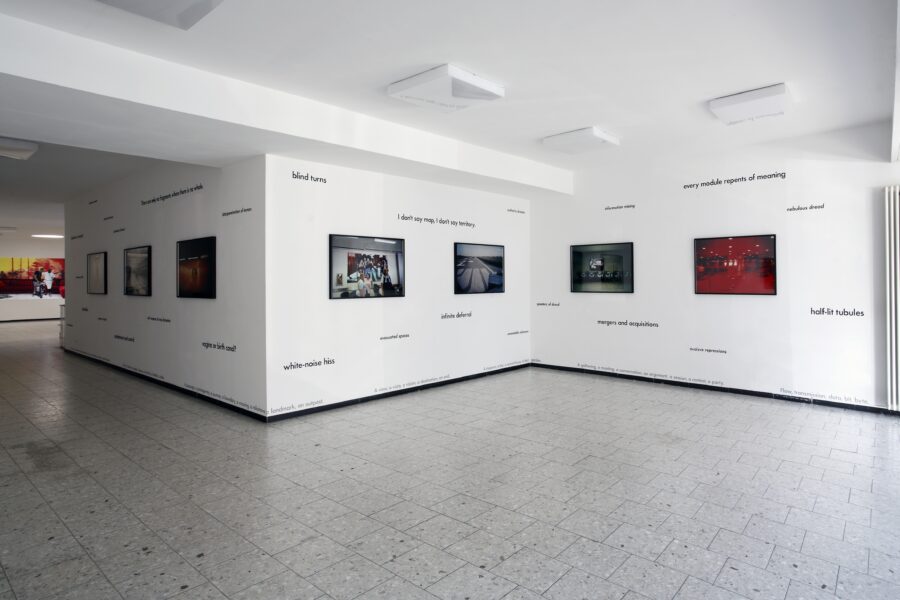 Press Release
Martha Rosler begann ihre Laufbahn als feministische, politische Künstlerin in den 60er und 70er Jahren. In der Serie "Bringing the War Home: House Beautiful", die zwischen 1967 und 1972 entstanden ist, schnitt sie Bilder der Vietnam Kriegsberichterstattung sowie Bilder von Heim- und Einrichtungsdecors aus Magazinen aus und klebte sie zu Collagen zusammen, die an Fotomontagen von Hannah Höch und John Heartfield aus den Zeiten des ersten Weltkriegs erinnern.
In den Irakkriegen sah Rosler sich Geschichte wiederholen. 2004 und 2008 nahm sie in ihren "Irakserien" die Strategie von "Bringing the War Home: House Beautiful" erneut auf, benutzte aber die zeitgenössischen Montagemöglichkeiten von Photoshop und Digitaldruck um jegliche Nostalgie zu vermeiden. Durch das Zitat der Ästhetik (der 60er und 70er Jahre) ist der geschichtliche Bezug hergestellt. Die Drastik von "Bringing the War Home: House Beautiful" hat sich, trotz 4 Jahrzehnten Mediendrastik und medialer Darstellung von Gewalt, in den Irakmontagen nicht verflüchtigt.
Mit "In the Place of the Public: Airport Series," begann Martha Rosler Anfang 1990. Die Fotos von Flughäfen, die mit einer kleinen Pocketkamera aufgenommen sind, die Rosler auf Reisen stets dabei hat, werden in Ausstellungen in verschiedenen Anordnungen präsentiert und mit Textfragmenten kombiniert. Diese sind den einzelnen Motiven nicht eindeutig zuzuordnen sondern dienen zur Erzeugung einer Art Ambience.
Während die Bilder die Umwelt und Atmosphäre von Flughäfen einfangen, bilden die Worte hierzu eine sprachliche Ebene, die gleichermaßen "atmosphärisch" ist und in beschreibender, kommentierender oder sich selbst aufhebender Weise (There are only no fragments where there is no whole) Wort- und Satzbruchstücke unterschiedlicher Bedeutungsebenen "streut". Flughäfen sind keine Orte sondern Passagenräume, in denen sich Bilder eines anderen, kulturellen Imaginären mit dem ständigen Datenfluss des
postmodernen Informationszeitalters mischen. Das Textstück "I don't say map, I don't say territory" könnte man als emblematisch für die gesamte Installation ansehen.
Martha Rosler wurde in Brooklyn, New York geboren. 1965 erlangte sie den B.A. am Brooklyn College und 1974 den M.F.A. der University of California, San Diego. Rosler arbeitet in den Medien Video, Photo-Text, Installation und Performance. Sie ist Autorin vieler kritischer Texte und unterrichtet kontinuierlich und weltweit. Ihre Arbeit in der Sphäre des Öffentlichen erstreckt sich von der kritischen Beobachtung alltäglicher Szenarien, häufig unter feministischen Blickpunkten, über Medienkritik bis zu kritischen Architektur- und Urbanismusdebatten. Sie veröffentlichte zahlreiche Foto- und Textbücher.
Ihre Arbeit wurde in den wichtigsten internationalen Ausstellungen und Institutionen, wie der documenta in Kassel, im Institute of Contemporary Art in London, im Museum of Modern Art in New York, im Dia Center for the Arts in New York, sowie in mehreren Whitney Biennalen und an vielen anderen Orten ausgestellt. Eine
Retrospektive ihrer Arbeit mit einem Begleitbuch veröffentlicht von MIT Press war in 5 europäischen Städten sowie in New York im New Museum und im International Center of Photography zu sehen.
Darüber hinaus sind unzählige Texte Martha Roslers in Katalogen und Magazinen wie beispielsweise Artforum, Afterimage und NU Magazine veröffentlicht.