13/03/2010 – 24/04/2010
Eröffnung: 12. März 2010
Ausstellung: 13. März - 24. April 2010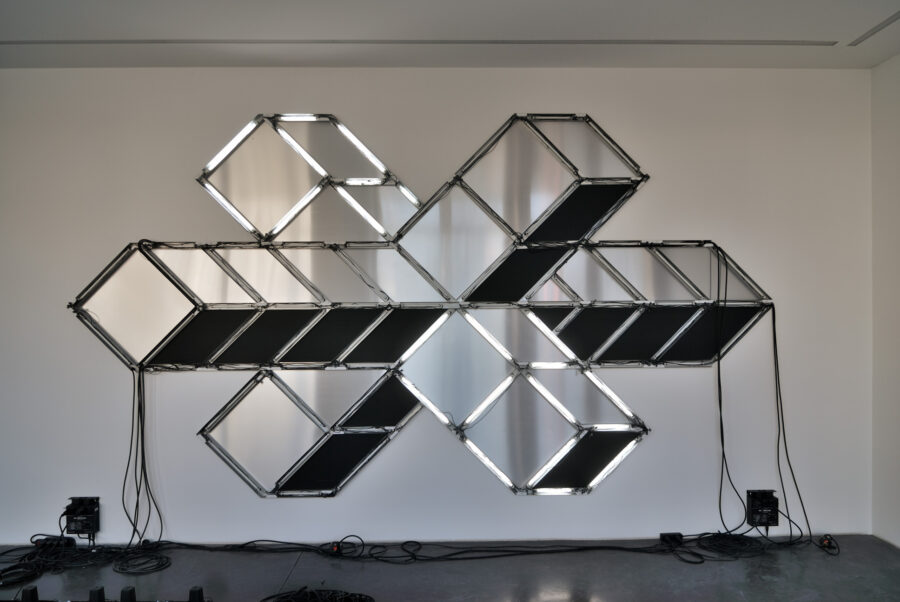 Press Release
Der belgische Künstler Xavier Mary, Jahrgang 1982, verwendet für seine Raum füllenden Skulpturen Materialen aus dem Bereich des Industriedesigns. Oft sind es normierte Bauteile, wie Paletten, Boxen, Schienen und Röhren, die Mary in seine künstlerischen Formen und Strukturen einbringt. Der Anblick dieser Materialien ist, wegen ihrer vielfältigen Verwendung in den uns umgebenden sich ständig im Auf- und Umbau befindlichen Stadtlandschaften, ein irgendwie vertrauter. Was auf den ersten Blick wie eine ästhetische Strategie zwischen Techno und Minimal wirkt, ist eine Umformung alltäglicher ästhetischer Erfahrung.
Xavier Mary ist uns aufgefallen in einer Gruppenausstellung junger belgischer KünstlerInnen, die im vergangenen Jahr im Brüsseler WIELS Zentrum für Zeitgenössische Kunst stattfand. Dort stellte er eine Skulptur aus den in Belgien so typischen Autobahnlampen aus, die man auch als einen "Dan Flavin mit anderen Mitteln" bezeichnen könnte, sowie einen großen Kreisel aus Autobahnleitblanken. In seiner ersten Einzelausstellung in der Galerie Christian Nagel Berlin bezieht er sich auf die Geschichte und Kultur des Techno. Dabei verwendet er das Logo des berühmten Techno Lables von Joey Beltram, dass er als Relief aus Gummi und rhythmisch aufscheinenden Neonröhren an die Galerienwand anbringt. Auf dem Boden befindet sich eine Art Dancefloor Skulptur mit Paletten, die gesamte Installation verwandelt die Galerie in eine flimmernde Box. Der entsprechende Soundtrack auf 300 Vinyl- Schallplatten gepresst, eine Kollaboration mit dem Technomusiker Marcus Vector, ist Teil dieses Szenarios.
Techno als Bewegung, als "urban tribe" hat eine eigene, über Musik weit hinausgehende Ästhetik zwischen Retro und Future geschaffen (die Begeisterung für die Ästhetiken technischer Hardware ist seit Erfindung des Microchips ja immer irgendwie "Retro").
Für Mary ist Techno als kulturelle Splitterpraxis (als spezifischer Fall einer "symbolischen Form") interessant, auf die er als Nachgeborener mit Faszination blickt und von der er sich Elemente entleiht, die er spielerisch künstlerisch weiterentwickelt.
Für eine weitere Arbeit der Ausstellung hat Mary eine große Version der Kinderzeichenmaschine Spyrographe angefertigt. Spyrographe besteht aus einem Zahnradkreis, in dem ein weiteres Zahnrad konzentrisch kreisen kann. Es ist mit Löchern verschiedener Anordnungen versehen, durch die man Stifte stecken kann, um mit ihnen Kreis und Schwingungsbilder aufs Papier zu bringen. Mary hat mit seiner vergrößerten Konstruktion der Spyrographe Zeichenmaschine Zeichnungen in große Metallplatten gefräst.
For his expansive sculptures Belgium artist Xavier Mary, born in 1982, uses materials known from industrial design. Standardized building elements like pallets, boxes, bars and pipes become part of his artistic forms and structures – elements we know quite well from our urban environments which are in permanent states of building and rebuilding. What at first sight appears as a strategy between techno and minimal can be seen as a conversion of daily visual experience.
We first noticed the work of Xavier Mary in a group show with young Belgium artists last year at WIELS Centre for Contemporary Art in Brussels. There he exhibited a sculpture made from those typical Belgium highway lamps (which, when they appear in never ending rows next to the road, make one aware of having passed the border) as well as a huge gyroscope made from highway safety fence material.
In his first soloshow at Christian Nagel Gallery Berlin Mary refers to the history and culture of techno. For this he uses the logo of the famous techno lable of Joey Beltram and transforms it into a wall relief made of rubber, metal bars and rythmically flashing neonlights. A kind of dancefloor sculpture from pallets is sitting in the middle of the space which as a whole has been transformed into a flickering box. A soundtrack on vinyl, a collaboration with musician Marcus Vector, is part of this scenario.
Beyond music techno as a movement, as an "urban tribe", has invented its own aesthetics between retro and future (since the invention of microchips the exitement over the aesthetics of technical hardware always appears a bit "retro", no?). For Mary techno is interesting as a cultural mode of existence (a specific case of a "symbolic form") to which he – born after the first-born – looks with fascination and of which he borrows elements for his playful artistic creations.
For another work in this exhibition Mary made a big version of a children's toy: the drawing machine "Spyrographe". A spyrographe consists of an inner and an outer gear-wheel. The inner one has holes to stick through pencils. When it is turned inside the outer wheel it leaves drawings of circular shapes on the paper underneath. With his enlarged version of the spyrographe Mary cut patterns in huge metal plates.