Egan Frantz Not yet no longer Speaking to the void, in spite of Prefigured monumental ruin.
19/04/2018 – 19/05/2018
Opening: 18 April 2018, 6-9 pm
Eröffnung: 18. April 2018, 18-21 Uhr
Galerie Nagel Draxler
Elisenstraße 4-6
50667 Köln
Öffnungszeiten
Mittwoch-Freitag: 11 – 18 Uhr
Samstag: 11 – 16 Uhr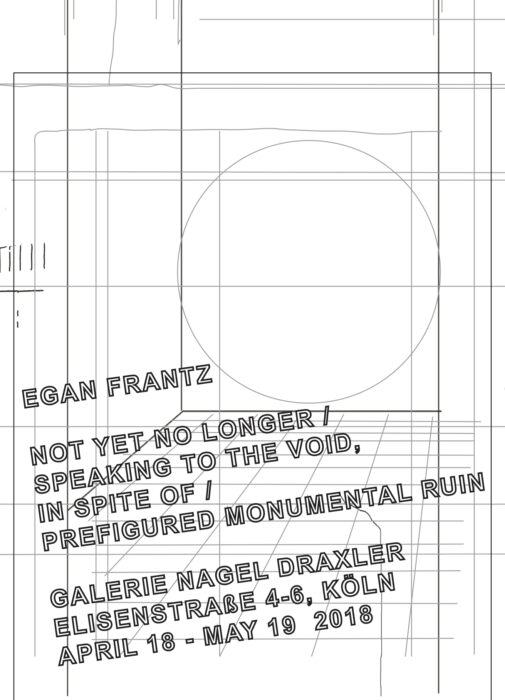 Press Release
Galerie Nagel Draxler is pleased to present Not yet no Longer / Speaking to the void, in spite of / Prefigured monumental ruin, Egan Frantz's third exhibition with the gallery. For the inaugural opening of our new permanent space in Cologne (designed by Roger Bundschuh architects), the artist will install a sequence of new, almost monochrome, laser-inscribed paintings.
Being a millennial young enough to have grown up using computers but old enough to remember drawing his name in the sand with a stick, Frantz's attitude towards making a painting does not, as such, embrace digital technologies as his predecessors might. He uses digital technologies with the casualness one might use a hammer. His familiarity with the digital space springs ideologically into painterly space and back.
Quote the artist:
Advanced art has become greatly difficult for two obvious reasons. The creative development of mimesis has been closed to the painter for about 100 years, while the pure creation of forms has been closed to the painter for about 50 years. Let's go back further. Imagine a stone. Inside this stone is the Venus of Willendorf. The Venus is always already there, someone only had to come along and chip away the stone that conceals her. Was it a problem for the ancients, that everything was always already there? Why is it a problem then, for artists today, that everything is already here?
From the antler tipped chisel to the painting knife to the radiation knife, if we think up a curve and we want to carve it we will do so by hand or with help of a robot, which ever. We know that both actions involve plotting a course, that we have always been technologically advanced, more or less, and we will not be mystified by smart technologies or shiny screen interfaces.
If anything, we can build our own robots to draw our names with sticks in the sand.
Egan Frantz (1986*) lives and works in Brooklyn, New York and in Connecticut.
_____________
Wir freuen uns, Ihnen Not yet no Longer / Speaking to the void, in spite of / Prefigured monumental ruin, eine Ausstellung des New Yorker Künstlers Egan Frantz zu präsentieren. Die Ausstellung ist gleichzeitig die Eröffnungsausstellung unserer neuen Galerieräume in der Elisenstrasse 4-6 in Köln. In seiner dritten Einzelausstellung mit der Galerie Nagel Draxler zeigt Frantz eine neue Serie nahezu monochromer, laserbeschrifteter Leinwände.
Als Millennial jung genug, um mit der selbstverständlichen Verwendung von Computern aufgewachsen zu sein und alt genug, um sich daran zu erinnern, wie es ist mit einem Stock den eigenen Namen in Sand zu ritzen, sind digitale Technologien weniger zentral für Frantz künstlerische Haltung, wie das vielleicht bei einigen seiner Vorgänger auszumachen ist. Frantz gebraucht digitale Technologien vielmehr beiläufig, so wie man etwa einen Hammer benutzt. Seine Vertrautheit mit dem digitalen Raum federt, ideologisch gesehen, in den malerischen Raum hinein und von dort wieder zurück.
Zitat Egan Frantz:
In der Kunst Fortschritte zu machen ist aus offensichtlichen Gründen schwierig geworden. Die Weiterführung von Kunst als Nachahmung ist seit 100 Jahren unmöglich, die reine Erschaffung von Formen seit ungefähr 50 Jahren. Lasst uns noch weiter zurückgehen. Stellt euch einen Stein vor. Im Innern des Steins befindet sich die Venus von Willendorf. Die Venus ist immer schon da, es musste nur jemand kommen, um den Stein wegzuhämmern, der sie einschloss. War es ein Problem für die Alten, dass irgendetwas immer schon da war? Warum ist es dann ein Problem für Künstler heute, dass alles bereits da ist?
Vom mit Geweih besetzten Meissel über das Malmesser bis zum Strahlenschneider, wenn wir uns eine Kurve ausdenken und sie formen wollen, dann tun wir es, mit der Hand oder mit der Hilfe von Robotern, wie auch immer. Wir wissen, dass es auf jeden Fall heisst einen Weg zu finden und dass wir seit jeher technisch mehr oder weniger fortgeschrittenen waren und dass wir uns jetzt nicht durch smarte Technologien oder leuchtende Bildschirme mystifizieren lassen.
Wenn überhaupt, dann bauen wir unsere eigenen Roboter, die unsere Namen mit Stöcken in den Sand schreiben.

Egan Frantz (1986*) lebt und arbeitet in Brooklyn, New York und in Connecticut.