01/08/2014 – 10/09/2014
Eröffnung: Donnerstag, 31.07.2014, 19-22 Uhr
Opening: Thursday, 31.07.2014, 7-10 pm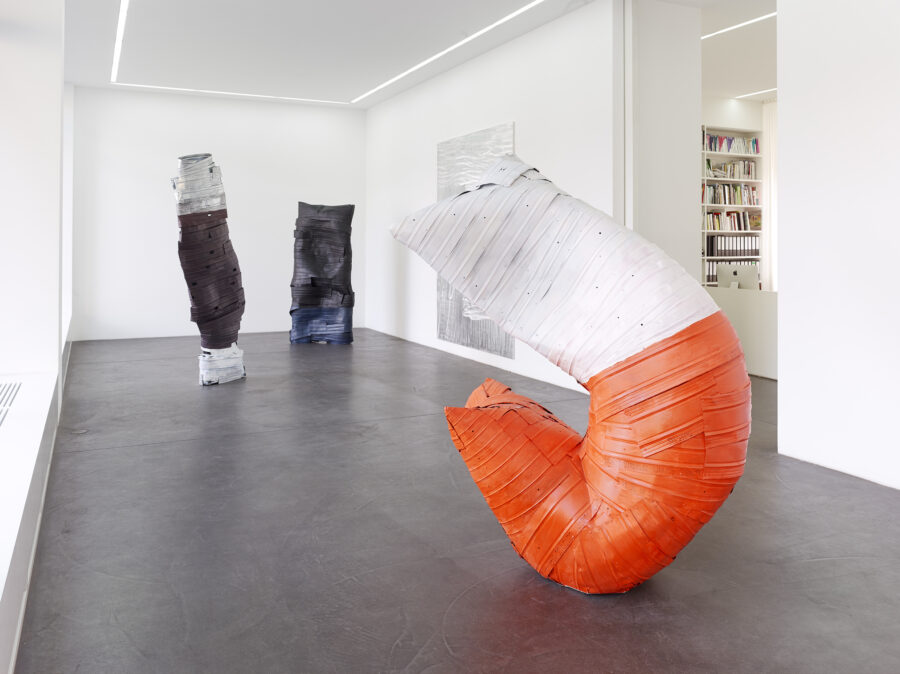 Press Release
Trockenbauprofile geformt und gewickelt zu großen Skulpturen, farbig lackiert oder teillackiert, geflexte Blechbilder, so präsentiert sich Anna Fasshauer in ihrer ersten Ausstellung in der Galerie Nagel Draxler Berlin.
Anna Fasshauer macht klassische Bildhauerei, als sei dies einfach.
Präzise verwandelt sie in einem offenen Prozess Material in Formen, die sie in den Raum setzt.
Sie entwirft oder zeichnet nicht, gibt nicht die Fertigung in Auftrag.
Fasshauer produziert selbst, verbraucht Kraft beim Biegen und Flexen und Herumhantieren mit den großen, schweren Arbeiten.
Sie improvisiert, die Arbeiten 'entstehen im Entstehen'.
Auch die Bilder sind Ergebnisse eines prozessorientierten Arbeitens mit Material.
Ihr Format klassisch, ihr Thema die Oberfläche, ihr Ausdruck abstrakt.
Alles hier ist, was es ist und es ist gemacht.
Nicht sogenannter spekulativer Materialismus oder Realismus, nicht poststrukturelles Korrelieren sind hier die Matrix.
Vielmehr gelingt Fasshauer eine Setzung in der besten Tradition abstrakter Kunst des 20. Jahrhunderts, so als sei diese ein Kontinuum.
Drywall construction profiles formed and wound to large sculptures, either coloured or partly lacquered, flexed sheet metal pictures - this is how Anna Fasshauer presents herself in her first exhibition at Galerie Nagel Draxler Berlin.
Anna Fasshauer employs classical sculpture as if it were easy.
In a rather open process, she accurately transforms material into forms, putting them into space.
She neither designs nor draws, does not order the complete construction.
Fasshauer produces herself in an energy consuming act of bending, flexing and fumbling around with the large and heavy works.
She improvises, the works arise in the process of arising.
The pictures are results of this process-oriented working method as well.
Their format is classical, their topic is the surface, their expression is abstract.
Everthing on display here is what it is and it is hand-made. Neither the so-called speculative materialsm or realism nor the post-structural correaltion are the matrix.
In fact Fasshauer achieves a setting in the best tradition of abstract art of the 20th century, as if it were a continuum.