12/11/2013 – 21/12/2013
Eröffnung: Samstag, 9. November 2013, 18-22 Uhr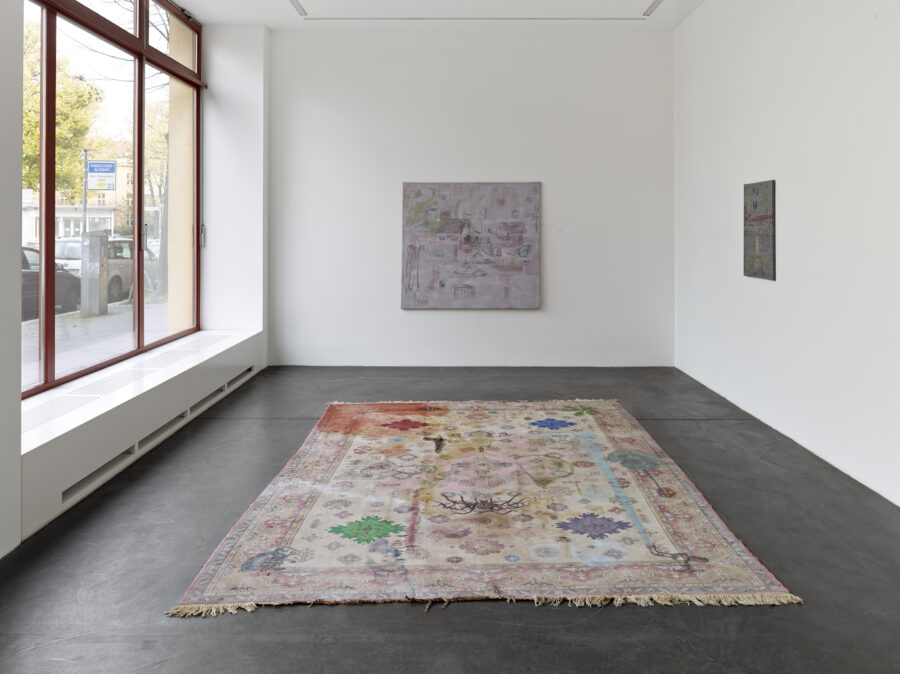 Press Release
Die Arbeiten von Lutz Braun sind direkt, poetisch, unheimlich und auf fast altmodische Weise verträumt. Alle Materialien, die sich als Bildträger eignen, zählen etwas, wie im Traum. Sie sind im Alltag des Künstlers zur Hand und vermischen sich mit seiner Vorstellungskraft. Dadurch werden sie mehr als Bildträger; sie durchdringen die Malereien und Skizzen, die sich auf ihnen ereignen; sie vermischen sich mit ihnen zu einer "anderen Welt".
Teppiche, Babywindeln, alte Decken und Holzplanken, Gegenstände, die man als Zivilisationsmüll bezeichnen könnte, erzählen von einer Welt jenseits derer, deren Grenzen durch Konsum und Information definiert sind. Nichts wird weggeworfen, und es wäre auch sinnlos; denn das Verbannte, Verworfene kehrt stets zurück als Schatten. Die alternative Welt Lutz Brauns ist keine Idylle. Seine Bilder zeigen Figuren und Zeichen aus dem Schattenreich der Untergegangenen, Schreienden, Verletzlichen und derer, die sie jagen.
Kernstück der Ausstellung ist ein großer ausrangierter Teppich mit orientalischen Mustern. Einige von ihnen werden aufgenommen oder farblich transformiert. Wesen und Symbole aus Brauns Repertoire sind dem zugefügt. Zwei disparate symbolische Ebenen, die des Künstlers Lutz Braun einerseits und die der Kunsthandwerker, die diese Muster seit Jahrtausenden knüpfen und damit kulturelle Bedeutungen übermitteln, andererseits treffen sich wie zu einem Duell ohne Waffen.
--------------------------------------------------------------------------------------------
Lutz Braun's works are direct, poetic, weird and dreamy in an almost old fashioned way. All materials that are suitable as an image carrier recount something like in a dream. They are at hand in the artist's everyday life and they mingle with his imagination. As a result they become more than simple image carriers: they penetrate the paintings and sketches, which occur on them; they diffuse with them to form a "different world" .
Carpets, diapers, old blankets and wooden planks, items that can be described as products of waste of civilization tell of a world beyond its boundaries defined by consumption and information. Nothing is thrown away and this would be pointless, because the banished and discarded always return as shadows. The alternative world of Lutz Braun is not an idyll. His paintings show figures and characters from the shadowy realm of the vanishing, screaming, vulnerable and those who hunt them.
The central piece of the exhibition is a large cast-off carpet with oriental patterns. Some of these are taken up or transformed in color, beings and symbols of Braun's repertoire added. Two disparate symbolic levels, on the one hand the artist Lutz Braun and on the other hand the craftsmen who have been making these patterns for thousands of years, thus conveying cultural meanings, meet each other in a duel without weapons.