15/09/2018 – 27/10/2018
Mark Dion & John Miller
Eröffnung: Freitag, 14. September 2018, 18 – 21 Uhr
Opening: Freitag, 14. September, 2018, 6 – 9 pm
Galerie Nagel Draxler
Weydingerstr. 2/4
10178 Berlin
Öffnungszeiten / Hours:
Dienstag – Samstag: 11 – 18 Uhr / Tuesday – Saturday: 11 am – 6 pm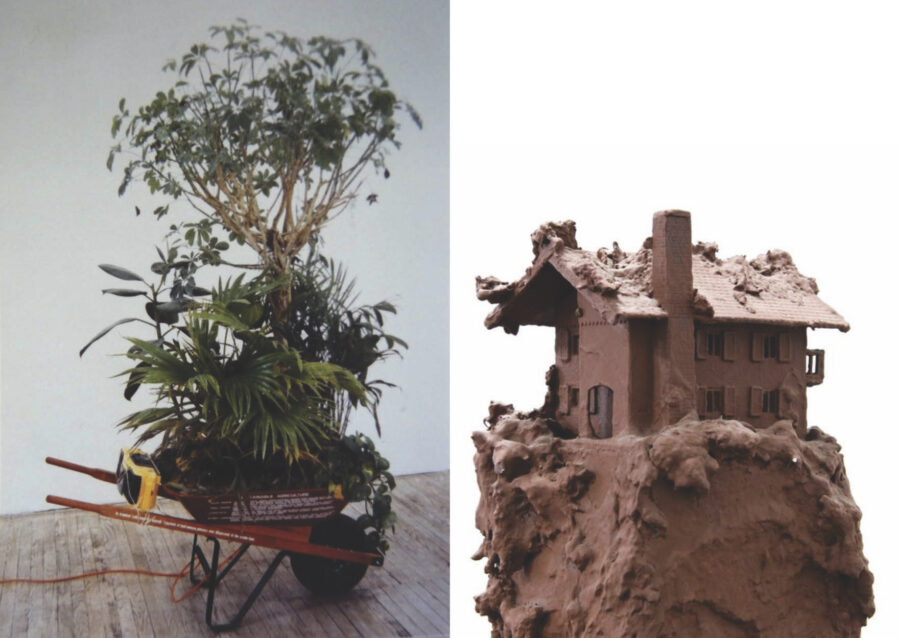 Press Release
Galerie Nagel Draxler is happy to present two signature installations by Mark Dion and John Miller from the 1990s. Both artists have always exposed themselves to socially relevant questions within the art context, and developed their own artistic language, which is essential for our gallery's program.
The work by Mark Dion that is shown here, is part of the 'Wheelbarrows in Progress' series, exhibited at American Fine Art in 1990. Each wheelbarrow carries a blinded ideology about 'green' issues. In this case the wheelbarrow reflects on the double phenomena of creating zoological rainforests inside cities, whereas at the same time existing rainforest are deforested. The small and mobile reserve represents comically the attempt to domesticate rainforests for our needs.
The brown sculptures are a well-known body of work by John Miller. In the 1980s, coming from the urge to overcome the comprehensive ethos of Abstract Expressionism, Miller began to use brown color as his trademark, "a trademark no one wanted, a repugnant trademark" (John Miller). By covering collectables like model railway houses put on pedestals with his brown material, he refers to the fetishisation of aesthetic objects in a very cynical/ironical way.