05/09/2014 – 27/09/2014
Eröffnung: Donnerstag, 04. September 2014, 18–22 Uhr
Opening: Thursday, 04. September 2014, 6-10 pm
Galerie Nagel Draxler
Neubrückstraße 6
40213 Düsseldorf
Öffnungszeiten: Di-Sa 11-18 Uhr
Opening times: Tue-Sat 11am-6pm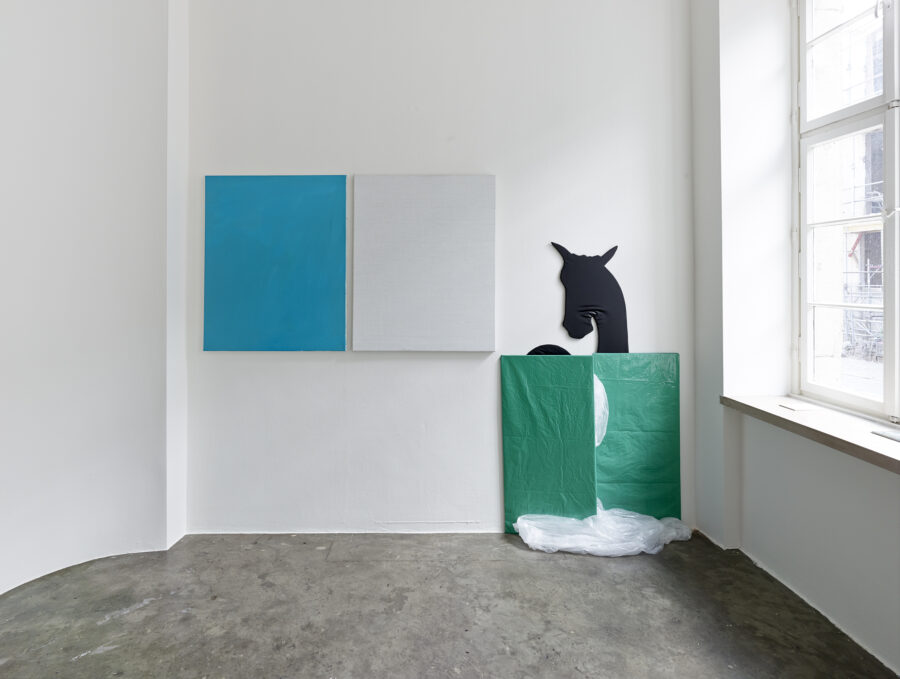 Press Release
In der Ausstellung "KREBBER" zeigen wir ein Konvolut von Arbeiten von Michael Krebber, die zwischen 1990 und 2001 entstanden sind.
Den Katalog zur Ausstellung können Sie vor Ort sowie über unsere Galerien in Köln und Berlin beziehen.
Ende der 80er Jahre kannten wir bis auf das "Baselitz" Bild fast keine Krebber Bilder. Oliver Hardy und Stan Laurel vor dem zertrümmerten Klavier und George Simenon im weißen Dinnerjacket, ausgestellt bei uns in der Galerie Christoph Dürr in München, Daniel Buren Streifen und Allan McCollum Surrogate auf Fotokopien, zu sehen in Stuttgart bei Isabella Kacprzak, alles Fluchtwege durch die Hintertür vor der Malerei. Erst die Ausstellung bei Birgit Küng in der "Fettstrasse" brachte, nachdem Cosima von Bonin ihren Ehemann buchstäblich nicht mehr aus dem Atelier herausließ, fünf kleine, bezaubernde Bilder hervor, die bei Nacht und Nebel nach Gstaad gebracht, dort sofort von T. A. erworben und dann in Zürich ausgestellt wurden. Sofort bot ich Krebber daraufhin eine Einzelausstellung auf der Kunstmesse in Chicago (1991) an. Bedingung war die Produktion von 10 neuen Bildern. Die Hintertüren waren geschlossen, aber einige Fenster schienen noch offen. Für eine Ausstellung im Münchner K-Raum Daxer hatte Cosima von Bonin ein Pferd aus Styropor und Plastikfolie angefertigt. Krebber zeigte dort ein hervorragendes, großes Diptychon mit einem Frauenportrait. Er bat CvB das Pferd, bei dem es sich um eine unlimitierte Edition handelte, in seiner Koje in Chicago auszustellen. Zeigte das erste Bild der neuen Serie noch einen gestischen Bezug zu dem Pferdekopf, waren die folgenden Bilder fast alle mehr oder weniger monochrom zugemalt, was in den beiden letzten Bildern darin gipfelte, dass es sich bei diesen Arbeiten um zwei völlig leere weiße Leinwände handelte. Hinzu kam eine Offset Grafik und die Koje war fertig. Erstaunlicherweise war die Koje zwei Stunden vor Eröffnung zu 80% verkauft.
Krebbers Malerei der 1990er und frühen 2000er Jahre bildet einen Kontrapunkt zu einer Art Archäologie der Kunst der Moderne, wie sie beispielsweise von Künstlern wie Sigmar Polke, Albert Oehlen, oder Martin Kippenberger betrieben wurde, die gerne auf humoristische Weise, nach Art des Künstlerwitzes, historische Referenzen in ihre Bilder aufnahmen. Im Gegensatz zu diesen verwendet Krebber zu dieser Zeit auf der Leinwand so gut wie niemals Worte, sondern hält sich mit seinen verschwindend fragmentarischen, im besten Sinne des Wortes "angedeuteten" Bildzitaten ans Malerische. Dabei entsteht schließlich der eigene Strich, den John Kelsey einmal treffend als "Unfinished too soon" bezeichnet hat.
[...]
Krebber negiert seine Vorgänger nicht, er trägt sie ab. Er hat in diesen Nachwendejahren sein Kölner Umfeld, vielleicht seine Epoche quasi "entmalt" (unpainted). Dies ist sein Werk. Eine Malerei nach Krebber dürfte somit und das ist ohne Ironie gesagt, ungeheuer schwierig sein.
Christian Nagel & Saskia Draxler
Den gesamten Text erhalten Sie auf Nachfrage unter koeln(at)nagel-draxler.de
---
In "KREBBER" we show a group of works Michael Krebber painted between 1990 and 2001.
The exhibition's catalogue is available on site as well as through our galleries in Cologne and Berlin.
In the late 1980s, we knew of almost no Krebber paintings except for the "Baselitz". Oliver Hardy and Stan Laurel in front of the shattered piano and George Simenon in a white dinner jacket, exhibited at our Galerie Christoph Dürr in Munich, Daniel Buren stripes and Allan McCollum surrogates on photocopies at Isabella Kacprzak's gallery in Stuttgart, all back-door escape routes, away from painting. Only the exhibition at Birgit Küng's place in "Fettstrasse" produced – after Cosima von Bonin literally did not allow her husband to leave the studio – five small, magical paintings that, in a cloak-and-dagger operation, were brought to Gstaad, where they were swiftly purchased by T. A. and then exhibited in Zurich.
After that, I immediately offered Krebber a solo exhibition at the art fair in Chicago (1991), under the condition that he produce 10 new paintings. The back doors were closed, but it seemed several windows were still standing open. For an exhibition at K-Raum Daxer in Munich, Cosima von Bonin made a horse out of styrofoam and plastic wrap. Krebber showed an excellent, large diptych with a woman's portrait. He asked CvB to show the horse – an unlimited edition – at his booth in Chicago. If the first painting of the new series still showed a gesteral relationship to the horse's head, the ones that followed were all painted more or less monochromatically, culminating in the two last paintings, so that these last two works were two completely empty white canvases. An offset graphic was added to this, and the booth was finished. Astonishingly, 80% of the booth was sold two hours before the opening.
Krebber's paintings from the 1990s and early 2000s form a counterpoint to a kind of archaeology of modern art as practiced by artists like Sigmar Polke, Albert Oehlen or Martin Kippenberger – artists fond of incorporating historical references in their paintings humorously, as a kind of artist joke. Unlike his colleagues, Krebber almost never used words on his canvases during this period, but keeps it to painting with his diminishingly fragmented, "implied" (in the best sense of the word) visual quotes. This is ultimately the mark of Krebber's work, which John Kelsey once aptly described as "unfinished too soon."
[...]
Krebber does not negate his predecessors; he strips them away. He has, in these post-Reunification years, quasi "unpainted" his Cologne environment, perhaps even his era. This is his work. Painting after Krebber could, in that respect, – and I say this without irony – be incredibly difficult.
Christian Nagel & Saskia Draxler
You can obtain the full text by request at koeln(at)nagel-draxler.de