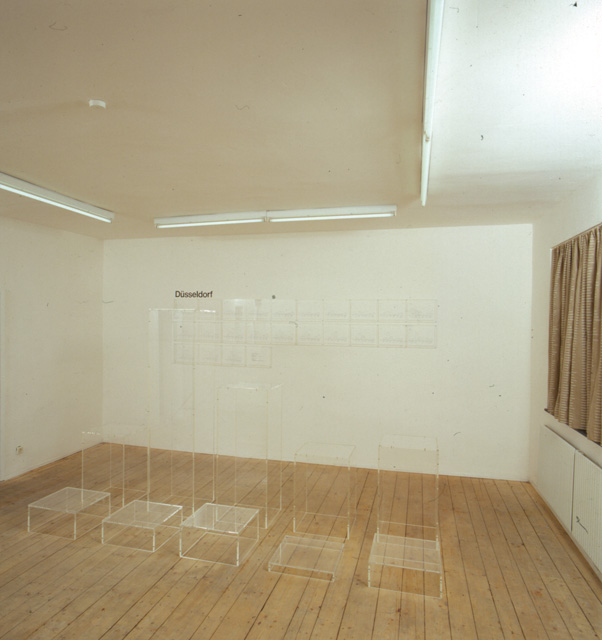 Press Release
– "Köln–Düsseldorf," 1990, 16 Plexiglas cubes, 46 computer-generated designs in Plexiglas, framed; dimensions variable; Sammlung Karola Grässlin
– "Kölner Künstler," 1990, silkscreen on canvas linen; 59 x 82 inches
– "Düsseldorfer Künstler," 1990, silkscreen on canvas linen; 59 x 82 inches

The 1990 exhibition "Köln–Düsseldorf" took place at Galerie Nagel on the second floor of Brabanter Strasse 49 in Cologne. Here, Müller focused on the local art scene by comparing the cultural budget of the city of Cologne with that of its arch-rival Düsseldorf. Mounted on opposite walls in the gallery were graphic representations produced by means of a plotter, showing the cultural income and expenditures in Cologne and Düsseldorf from 1967 (the year of the first worldwide art fair Art Cologne) to 1989. On the floor between them, fifteen Plexiglas cubes arranged in two groups stood across from each other as if on a chessboard, their size determined by the statistics for the year 1990. The windows were covered by two canvas curtains on which were printed the names of all the artists officially registered in Cologne and Düsseldorf (ca. 1000 persons each). The opposing yet symbiotic relationship between the Düsseldorf Academy and the Cologne art market reflected not only Müller's personal background, but also a decisive connection between both cities. Müller investigated the institutional financial history of the artistic environment and translated the results into diagrams framed like works of art. In the end, the Düsseldorf budget proved to be significantly larger and more differentiated than the Cologne budget. Yet, at the same time, the funda­mental dissimilarity of the two budgets also became clear, with their site-specific orientation to their own artistic environment.