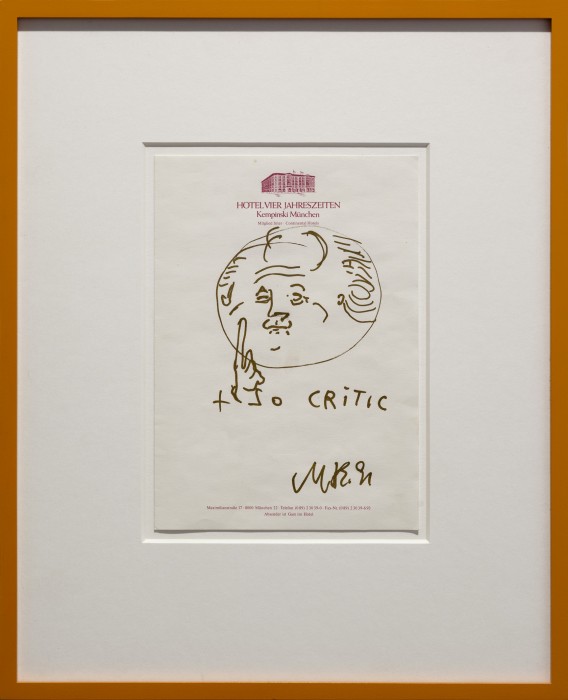 Press Release
*  for english scroll down *
_______________
Und dann, 1986, kam Michael Krebber und bot seine Dienste an. (…)
Bei Kippenberger gäbe es kein Gegenteil, weil er selber immer schon das Gegenteil sei, hat Jutta Koether in Martins Katalog 'Heimweh Highway' geschrieben. In Krebber hatte er nun sein leibhaftiges Gegenteil, sein Spiegelbild gefunden: einen, der ihm in vielem ähnlich war, nur meistens genau seitenverkehrt.(…) Wie Martin war Krebber ein konzeptionell arbeitender Künstler, aber während dieser die Inflation zur künstlerischen Methode gemacht hatte, entschied jener sich für die Verweigerung. Eröffnete Martin eine Ausstellung nach der anderen, machte Krebber eine Zeit lang gar keine, lehnte auch alle Einladungen ab. Konnte Martin jeden Tag ein Bild malen, begnügte Krebber sich schon mal mit einem pro Jahr. Oder malte gar keins.
   – Susanne Kippenberger***
Im Herbst 1986 zeigten wir in der Münchner Stuck Villa eine Einzelausstellung mit Martin Kippenberger: die 'No Problem Bilder'. Kurz danach wurde Michael Krebber sein Assistent in Köln. Es dauerte nicht lange und Kippenberger suchte für ihn eine Ausstellung. Natürlich waren wir als junge Galeristen nicht schwer zu überzeugen. Vor unserer Show gab es noch eine Ausstellung in der Galerie Bleich-Rossi in Graz. Hier operierte Krebber mit zusammengenähten Kinderhosen und einem in der Reinigung eingegangenen Kleid. Notizen an Rahmenleisten und Zeichnungen vervollständigten das Ensemble.
Bei Krebber wusste man nie, was auf einen zukam. Für die Galerie Christoph Dürr orderte er 30 Din A4 große Rahmen die er mit Zeichnungen bestücken wollte.
Am Montag in der Früh gegen 8:00 Uhr holte ich Michael Krebber am Münchner Hauptbahnhof vom Nachtzug aus Köln ab. Man sah, dass der Künstler einige Drinks im Zug zu sich genommen hatte. Wir fuhren zu mir, um zu frühstücken.
Bei mir angekommen zeigte mir Krebber sofort die Ausstellung: Eine schwarz-weiße Postkarte, auf der Stan Laurel und Oliver Hardy inmitten eines von ihnen im Kampf zerstörten Klaviers saßen. In der Mitte ein Porträt von Georges Simenon, dem legendären belgischen Autor von 'Kommissar Maigret' im weißen Dinner Jacket mit schwarzer Fliege – der perfekte Dandy. Und zuletzt ein Text aus dem eben gerade erschienenen Katalog von Marcel Broodthaers. Es handelte sich um ein Interview, in dem der Künstler manifestiert, er habe alles gesehen, wisse nicht mehr was er malen sollte, und deshalb ging er jetzt zum Pferderennen.

Auf meinen Einwurf, was wir denn jetzt mit den 30 Rahmen machen sollten, erwiderte Krebber: "ja zunächst wollte ich diese leer in die Galerie hängen, aber das wäre zu seriell und deshalb lassen wir sie weg." Auch die dreiteilige Arbeit käme nicht in den Ausstellungsraum, sondern in das kleine Büro.
So hatten wir drei zusammen 160 m² große leere Galerieräume mit drei kleinen gerahmten Arbeiten im Büro. Trotz heftiger Kritik und Unverständnis von einigen Seiten, war die Eröffnung ein riesen Erfolg.
       – Christian Nagel
***Susanne Kippenberer: 'AUCH EINE LIASON DANGEREUSE: MK1 UND MK2', in Susanne Kippenberger: 'Kippenberger. Der Künstler und seine Familie', Berlin, 2007
_______________
PRESS RELEASE
And then, in 1986, Michael Krebber came and offered his services. (…)
There is no opposite to Kippenberger, because he himself has always been the opposite, wrote Jutta Koether in Martin's 'Heimweh Highway' catalog. In Krebber he had now found his real opposite, his reflection: one that was similar in many ways, but mostly in total reverse. (…)
Like Martin, Krebber was a conceptually working artist, but while Martin made inflation an artistic method, Krebber chose refusal as a method. When Martin opened one exhibition after the other, Krebber didn't do any for a while, and also declined all invitations. If Martin could make a painting every day, Krebber was content with just one a year. Or painted none at all.
   – Susanne Kippenberger***
In autumn 1986 we showed a solo exhibition with Martin Kippenberger in the Munich Stuck Villa: the 'No Problem Pictures'. Shortly afterwards Michael Krebber became his assistant in Cologne. It wasn't long before Kippenberger was looking for an exhibition for him. Of course, as young gallerists, it was not difficult to convince us. Before our show there was an exhibition at Bleich-Rossi gallery in Graz. Here Krebber operated with children's trousers that were sewed together and a dress that had shrunk at the dry cleaners. Notes on frames and drawings completed the ensemble.
With Krebber you never knew what was going to happen. He ordered 30 Din A4 frames for Galerie Christoph Dürr, which he wanted to fill with drawings.
On Monday morning at around 8:00 a.m., I picked up Michael Krebber from the night train at Munich Central Station coming from Cologne. You could see that the artist had had some drinks on the train. We went to my house to have breakfast.
When we got there, Krebber immediately showed me the exhibition: a black and white postcard on which Stan Laurel and Oliver Hardy were sitting in the ruins of a piano destroyed by them in battle. In the middle a portrait of Georges Simenon, the legendary Belgian author of 'Inspector Maigret' in a white dinner jacket with a black bow tie - the perfect dandy. And finally, a text from the recently published catalog by Marcel Broodthaers. It was an interview in which the artist manifested, that he had seen everything, and no longer knew what to paint and therefore he went to watch a horse race.
When I asked what we were going to do with the 30 frames, Krebber replied: "Yes, at first I wanted to hang them empty in the gallery, but that would be too serial and that's why we omit them." The three-part work would not be placed in the showroom either, but in the small office.
So, finally we had three empty gallery rooms together with 160 m² with three small framed works in the office. Despite fierce criticism and a lack of understanding on the part of some, the opening was a huge success.
        – Christian Nagel
***Susanne Kippenberger: 'ANOTHER LIASON DANGEREUSE: MK1 UND MK2', in Susanne Kippenberger: 'Kippenberger. The artist and his family', Berlin, 2007