31/01/2009 – 28/02/2009
Eröffnung: Freitag, 30. Januar 2009, 19-22 Uhr
Ausstellung: 31. Januar - 28.Februar 2009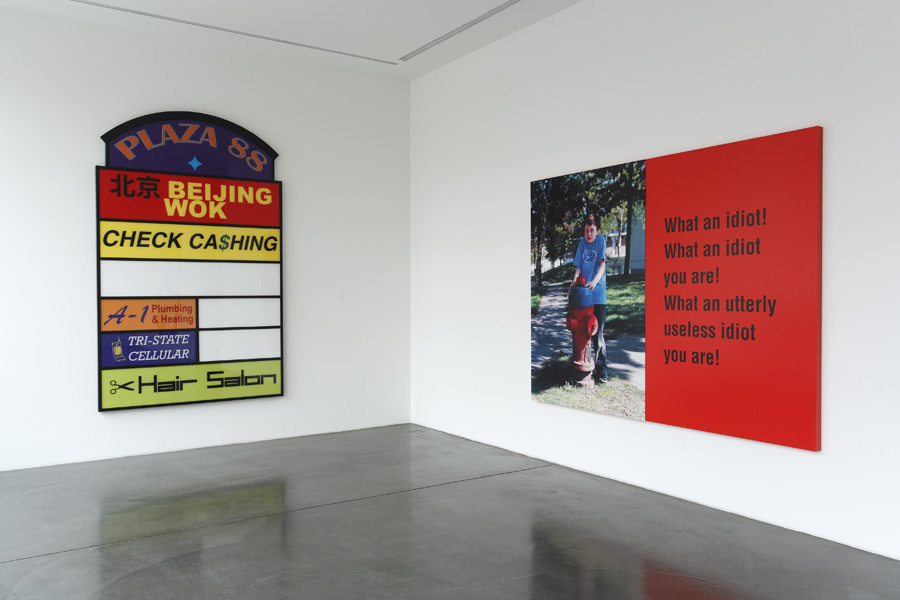 Press Release
Ken Lums neue Arbeit geht aus seiner Shopkeeper Serie hervor, die dem Betrachter abverlangte, sich die Subjektivität des Ladenbesitzers anhand eines Ladenschildes vorzustellen. In dieser Serie schuf die Trennung von dem oberflächlichen Charakter eines Schildes und dem eigentlich dahinter stehenden Individuum einen Identifikationsraum für den Betrachter.
In der neuen Serie wird das Thema einer rückständigen (vielleicht sogar embryonalen) Gemeinschaft anhand einiger Schilder von Einkaufsmeilen oder von kleinen Einkaufszentren überprüft. Diese Schilder bestehen aus mehreren kleineren Schildern, wodurch unterschiedliche Geschäftszweige zusammengeschlossen werden.
In den Schilder - Arbeiten, die in der Galerie Christian Nagel gezeigt werden, ist das Einkaufsmeilenschild ebenfalls als Zeichen von Verzweiflung und Krise zu verstehen. Erfolglosigkeit oder Schwäche des gesamten 'Geschäftszentrums' werden durch weiße Leerstellen auf den Schildern sichtbar gemacht. Diese Leerstellen zeugen von der Zerbrechlichkeit und Vergänglichkeit innerhalb der üblichen Geschäftszweige, die um ihr Überleben kämpfen. Lum will so auf die Widersprüche zwischen allgemeinen und individuellen Interessen innerhalb des sozialwirtschaftlichen Schemas aufmerksam machen, sowie Gefühle durch neutrale Äußerungen von Unternehmen offenlegen. Ebenso schmücken demographische Besonderheiten die Schilder und spiegeln die soziale Struktur wider, worin die Existenz des Schildes begründet liegt.
----------------------------------------------------------------------------------------
Ken Lum's new work develops from his Shopkeeper series, which called for the viewer to imagine the subjectivity of the proprietor of the shop represented by a shop sign. In that series, the disjuncture between the provisional part and the permanent part of the sign created an identifying space for the viewer. In the latest series, the theme of a residual (though perhaps embryonic) community is examined by way of the strip mall or mini mall sign. Such signs are containers of multiple smaller signs in which divergent businesses are amalgamated within a singular sign.
In the works on display at the Galerie Christian Nagel, the strip mall sign is also seen as a symbol of desperation and crisis. Failure or weaknesses of the entire 'business centre' are exemplified by white and blank plastic slots evoking a sense of fragility and temporality to the prevailing businesses that struggle to survive. What Lum is interested in are the contradictions between common and individual interests within the schema of the social economy, and drawing out feelings from the matter-of-fact pronouncements of enterprise. Demographic particularities also mark the various signs as they reflect the local social fabric for which the sign is imagined to exist.