18/10/2018 – 21/10/2018
fiac!
18 – 21 October, 2018
Solo Presentation: KADER ATTIA
Booth 0.A04
GRAND PALAIS
Avenue Winston Churchill
75008 Paris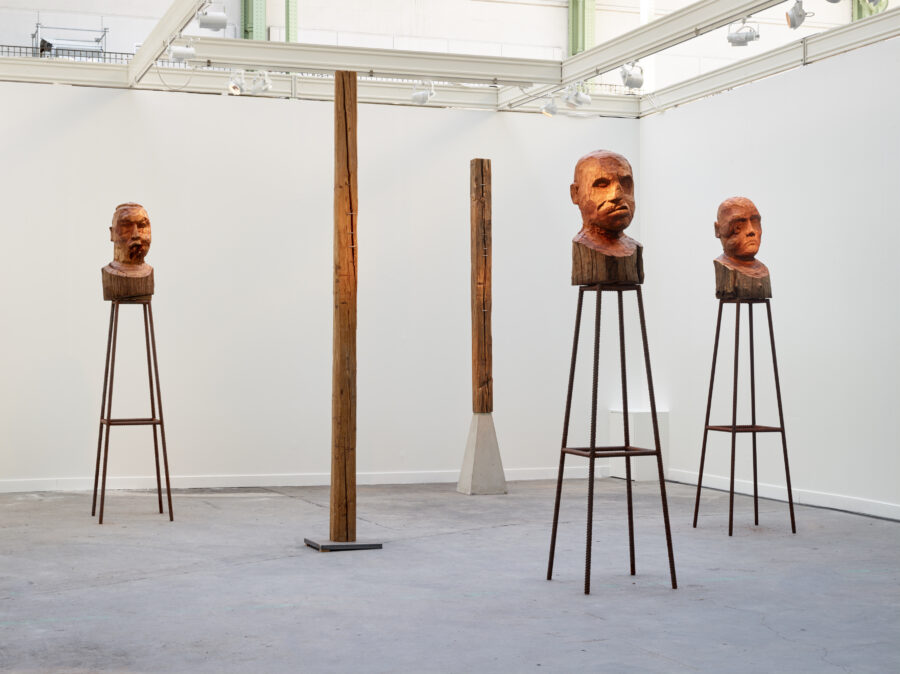 Press Release
For this year's Fiac we are proud to present a solo booth with signature sculptures by French Algerian artist Kader Attia.
Kader Attia's well-known and widely exhibited series Culture, Another Nature Repaired consists of powerful carved wooden 'busts' based on photographs of First World War veterans whose injured faces were crudely repaired through early plastic surgery (gueules cassées). Under Attia's guidance, sculptors from Senegal carved sculptures, taking the historical photographs as their models. The artist thus reminds us that several African countries were involved in the First World War as colonial territories of the belligerent parties and had suffered thousands of losses. The wood from which the busts were carved was chosen according to its age: it is approximately as old as the people it depicts. Instead of creating idealised portrayals, Attia immortalizes scars and deformations. Rather than making commemorative or universal figures, he depicts ordinary individuals
, that display the ruptures of trauma. Attia deliberately chose the First World War as the historical point in time at which the modern world, with its technical achievements and the advent of technical warfare, deconstructed the integrity of the human being in an unprecedented manner.
At fiac we present three new busts, that have never been shown before.
With a new series of sculptures, that were first shown in his recent solo exhibition Les racines poussent aussi dans le béton (Roots also grow in concrete) at Mac/Val, Kader Attia connects a (violent) colonial past to a (violent) postcolonial presence. The works are made from wooden beams taken from sites of torn down old houses. Where the wood shows cracks, Attia uses rusty metal staples as a visible intervention of repair. The beams have steel or concrete pyramid shaped base, that can be seen as a reference to the architecture of the Parisian Banlieues, the once utopian housing projects, where conflicts and police violence are growing today. Attia masters the medium of sculpture with great formal elegance, and at the same time his works are of deep political and anthropological meaning.
Our presentation is framed by a remarkable number of important institutional solo exhibitions Kader Attia has presented in the last two years, including MMK Frankfurt, Power Plant Toronto, Museum Ludwig Koblenz, Fundació Joan Miró (as the winner of the acclaimed Joan Miró Prize), Mac/Val Paris, SMAK Gent, MCA Sydney, to just name a few. His impressing projects "Eternal Now" and "Shifting Borders" are currently exhibited at the Gwangju Biennial as a GB commission. He is preparing solo exhibitions in 2019 at London's Hayward gallery, the Berkeley Art Museum, LE BAL Paris, a.o..