08/03/2018 – 11/03/2018
Independent New York / 8 – 11 March, 2018
Solo presentation: SAYRE GOMEZ
5th floor
Spring Studios
50 Varick Street
New York, NY 10013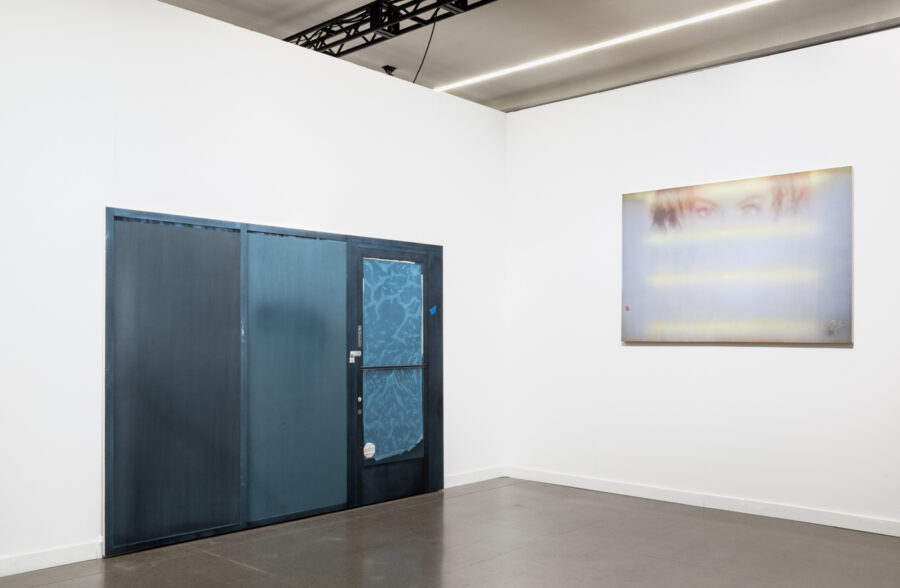 Press Release
Galerie Nagel Draxler & Ghebaly Gallery are proud to announce a solo presentation of new paintings by Los Angeles-based artist Sayre Gomez for the Independent Art Fair 2018.
For the Independent 2018, Sayre Gomez depicts a stark vision of the contemporary American landscape. Across five new canvases, Gomez utilizes trompe l'œil painting techniques to render rundown roadside signs and shuttered storefronts in hyperreal fashion. In one major painting, a scuffed and worn storefront stands abandoned and padlocked, covered up with poorly-applied window vinyl. The doorway becomes a closed wall, blocking even the idea of passage. Other works show monumental structures meant to display roadside signage, but in a state of disrepair and advertising nothing. The series, a commentary on the diminishment of the American Dream, also investigates the current state of visual semiotics, where signifiers roam unmoored from material constraints. As curator Catherine Taft writes in her essay on Gomez's practice, "his works are at once super flat, soft focus fields and highly precise, deeply dimensional pictures that dissect and reassemble the visual language" of our media-soaked world.
Sayre Gomez (b. 1982, Chicago) works across mediums, namely painting, sculpture and video, to address themes of perception and representation in the face of patriarchal political systems. Recurring metaphors such as windows are often used as a structuralist approach to investigating the role of context in the distribution and legibility of images in the 21st century. His work references the history of appropriation in tandem with a realist approach to rendering as a way of situating his practice with in traditions of conceptual art as well as Pop Art and the Pictures Generation.
He holds a BFA from the School of the Art Institute of Chicago and an MFA from California Institute of the Arts. Recent solo exhibitions include Galerie Nagel Draxler Berlin (upcoming), Ghebaly Gallery, Los Angeles, California, USA; Galerie Rodolphe Janssen, Brussels, Belgium; Michael Jon and Alan, Miami, USA; Galerie Nagel Draxler, Cologne, Germany; Galerie Parisa Kind, Frankfurt, Germany. He has recently exhibited at Shane Campbell Gallery, Chicago, Illinois, USA; Soccer Club Club, Chicago, USA; Marlborough, Madrid, Spain; IBID, London, UK; C L E A R I N G, New York, USA. His work is included in the permanent collections of the Los Angeles County Museum of Art, the Marciano Art Foundation, the Rubell Family Collection.