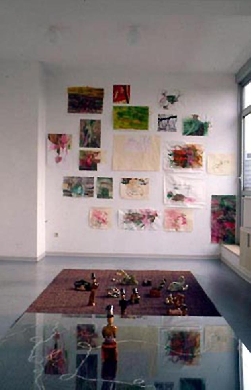 Press Release
Kai Althoff already was an outstanding artist in his early years in Cologne. We invited him to a solo exhibition and through the mediation of Cosima von Bonin he accepted. The opening of 'Hakelhug' took place in July 96. The work that Althoff made for it was formally at the highest level. He referred to Egon Schiele and the art of the early 20th century and led it further into figurative to abstract expressionism. An important aspect was the creation of a story that put a distance between the work and the artist. Without the story, the exhibition cannot be fully grasped. Hakelhug is a non - cosmopolitan wood gnome that lives in the deepest forests of Bergisches Land near Cologne. He created the exhibition, not to succeed as an artist, but to go through a kind of self-therapy. He is one who doesn't know many and lives more or less alone.

On the floor in front of the drawings there are smaller glazed clay sculptures, an ensemble that makes you think of a temple complex. The figures are based on Asian art. 
One female seated figure with the character of a goddess is centered in the middle on two larger panes of glass. Several different threads of wool transfer energy into the action.
Other figures and landscape-like structures are placed on a bleached sisal carpet that forms the ground for them.
A review by Yilmaz Dziewior of the exhibition in Frieze Magazine can be found here: https://frieze.com/article/kai-althoff