19/04/2018 – 19/05/2018
Opening: 18 April 2018, 6-9 pm
Eröffnung: 18. April 2018, 18-21 Uhr
Reisebürogalerie
Diko Reisen
Komödienstraße 48
50667 Köln
Öffnungszeiten:
Montag – Freitag 9–18:30 Uhr
Samstag 10–14 Uhr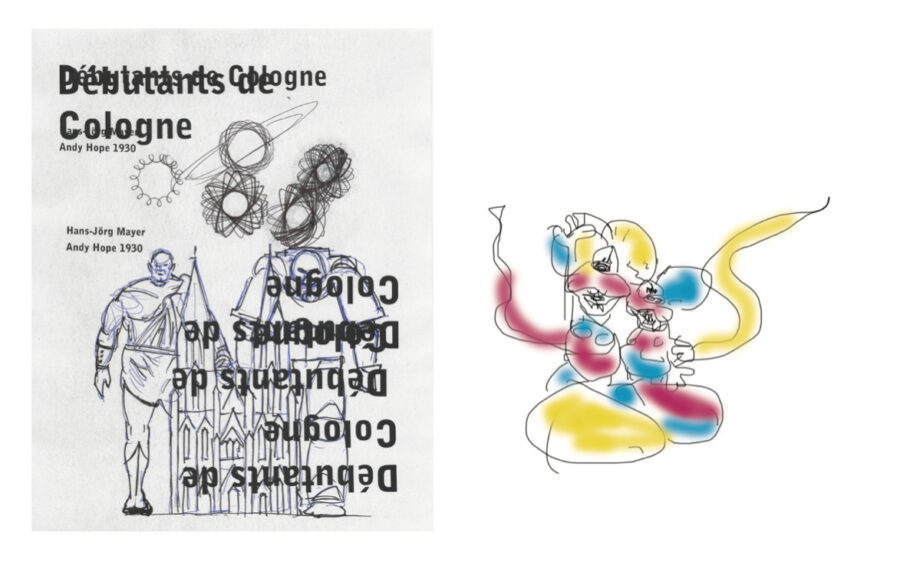 Press Release
Andy Hope 1930, Hans-Jörg Mayer
Andy Hope 1930 ist ein Auswanderer. Sein Migrationsort, von dem aus er kaum zurückblickt, ist eine von der amerikanischen Subkultur (Kunst, Comics, Sci-Fi) wie auch von den historischen Avantgarden (Suprematismus) in den Blick genommene "unheimliche Moderne". Er rekurriert auf scheinbar kunstferne Figuren ebenso wie auf Künstler-Ikonen wie Mike Kelley mit einem gut geprobten Auswandererakzent. Genau in diesem Akzent aber zeigt sich eine Verschiebung, die Teile der deutschen Nachkriegskunst durchzieht und die man als eine Art Faszinationsgeschichte am amerikanischen Freund/Feind-Mythos bezeichnen könnte.
Popart, Appropriation, Affirmation, Dekonstruktion, dandyistisches Understatement, das sind die Angebote der Künstler/innen als Skeptiker/innen, die in ihren Werken die Situation der Kunst seit der Moderne glaubwürdig widergeben wollen: sie ist gemacht, aber nicht mehr "wahr". Bei Hans-Jörg Mayer geht es um den Status der Malerei, die jenseits der immer weiterlaufenden marktförmigen Anachronismen nur bestehen kann, indem sie gegen sich selbst arbeitet.
_____________________
Andy Hope 1930 is an emigrant. His place of migration, from which he hardly looks back, is an "uncanny modernity", like it is taken into view by American subculture (art, comic strips, Sci-Fi). With a well-rehearsed emigrant accent, he is referring back to apparently non-artistic figures as well as to iconic artists like Mike Kelley. But exactly this accent shows a shift, that is running through parts of German post-war art, and that could be described as a kind of history of fascination with the American friend-foe myth.
Pop-art, appropriation, affirmation, deconstruction, dandyish understatement, these are the offers of artists as sceptics, that are aiming on reflecting the situation of art since modernity in a credible way: it is made, but not "true" any more. What is on stake in Hans-Jörg Mayer's art is the status of painting, which can only persist beyond the ever-continuing market-compatible anachronisms, if working against itself.