13/01/2012 – 10/03/2012
Galerie Christian Nagel
Sint Katelijnevest 48
2000 Antwerp
Belgium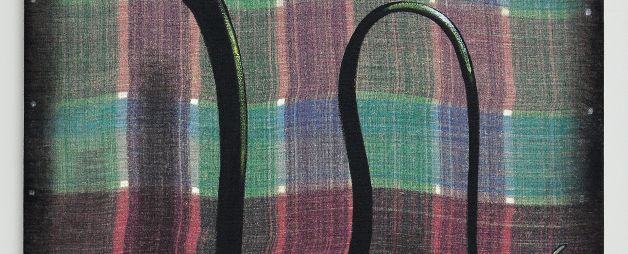 Press Release
I painted all the works in the show whilst living in Glasgow for the months of October and November, 2011, except for two paintings. There's one that I had just finished before I left for Glasgow ("Cheeky Rosy") and one that I painted when I got back ("Scottish Mist"). I've done this before. I've studied and worked as an artist in London in 1999/2000 and I've lived and worked in San Francisco, California in 2007/2008. When you work as an artist in a foreign country you wonder how you will be influenced by the new surroundings and new people. People ask you this too. When they see your work, they will be tempted to relate it to your cultural background ("You are a German painter, I can see this in your brush work."). Even though it may be a fruitful way to try and understand art in relation to its cultural settings I always found it hard to tell apart real influence from cliché.It doesn't help that you, the artist, may be eager to notice some kind of change, experience a progress in your work in response to a new location. This time, before I left Dusseldorf  to work in Scotland, I made a conscious decision to mock my response to working in a new city. That's why I started every painting in Glasgow with a painted surface that brings tartan patterns to mind ( a Scottish tradition as much as a cliché). These paintings seem to scream "Scotland" on first sight, whereas the actual figuration in the works is based on memories and drawings in my sketchbooks. I wanted to make use of the energy that comes from missing and memorizing things you know well, motifs deriving from fictional characters and real people that have been part of my work before. The few narratives in the paintings that deal with Scotland, deal with clichés (Loch Ness, Nessie, bagpipes). What makes the works Scottish is the fact that they happened to be "MADE IN SCOTLAND" just like Pringle jumpers used to be. I found Scotland and Glasgow in particular very fascinating, its rich history of its economic wealth manifested in many great buildings, its lively art scene with lots of projects connecting the artists with the city they work in. It takes time for all those new impressions to sink in before you can try and deal with them in your work. I think I know this by now. I did go to Loch Ness. No monsters there I can assure you. As to the famous Scottish weather I indulged in some mild escapism reading "Crazy from the heat", the 1997 autobiography of California rockstar David Lee Roth.
I found that he himself engaged with other cultures communicating through drawings. Here's a quote from his book where he talks about life on the road:
"I've tried drawing little cards, little pictures of food items. Because you'll be stopping in places-in Poperinge, Belgium, or somewhere outside of Karlskoga, Sweden. These are little places-little, little places-and you'll stop at a roadside something or other. If you're looking for a hamburger, that you can draw a picture of and it's fairly well understood. Pizza I've had good luck with. Various fruit stuffs, apple, pear, like this. Cottage cheese, I almost got punched in the mouth.There's no way to draw cottage cheese without insulting somebody. And I defy anybody to draw me a picture of yogurt that won't lose you're audience within thirty seconds. Show them a picture of either one and I don't care how good of an artist you are; they are going to hand you bottle of Belgian Pepto-Bismol, at best."
David Lee Roth "Crazy from the heat", pp. 170-171
"Reisen bildet."
Cornelius Quabeck 2012