24/10/2019 – 01/02/2020
Eröffnung: Mittwoch, den 23. Oktober 2019, 18-22 Uhr
Opening: Wednesday, October 23, 2019, 6-10 pm
Galerie Nagel Draxler
Türkenstraße 43
80799 München
Drinks by Elephant Gin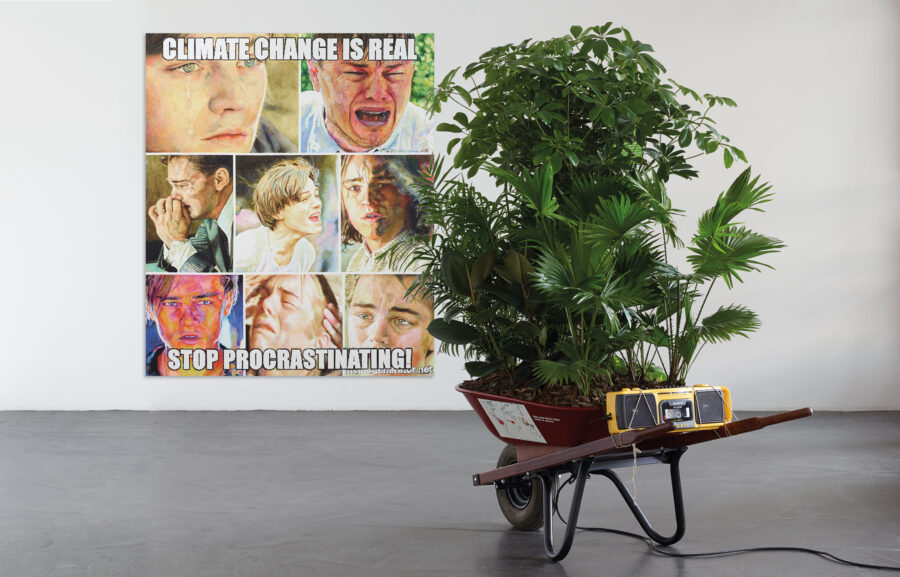 Press Release
Galerie Nagel Draxler is pleased to announce the opening of our new premises in Munich's district of Maxvorstadt, close to Museum Brandhorst and Pinakothek der Moderne. The street level gallery space in Türkenstraße 43 will be a perfect addition to our spaces in Cologne (active since 1990) and Berlin (active since 2002).
Munich, with its great institutions and its very engaged art collectors, is an ideal city to present our program with artists such as Kader Attia, Anna Fasshauer, Andrea Fraser, Stephan Dillemuth, Sayre Gomez, Reneé Green, Martha Rosler, Joëlle Tuerlinckx, Luke Willis Thompson, Heimo Zobernig a.o.
The opening exhibition on October 23rd 2019, will feature American artists Mark Dion (*1961, represented by our gallery since 1990) and Christine Wang (*1985, represented by our gallery since 2015) and will address today's pressing environmental issues of climate change.
Munich is Christian Nagel's hometown. Already in the mid 1980s he co-directed Galerie Christoph Dürr in Munich's Villa Stuck, where he showed artists such as Fareed Armaly, Günther Förg, Martin Kippenberger, Michael Krebber, Heimo Zobernig, Franz West, Clegg & Guttmann, a.o.
MARK DION
Mark Dion's work Tropical Rainforest Preserves (Mobile Version) (1990) is part of the 'Wheelbarrows in Progress' series, exhibited at American Fine Art in 1990. Each wheelbarrow carries a blinded ideology about 'green' issues. In this case the wheelbarrow reflects on the double phenomena of creating zoological rainforests inside cities, whereas at the same time existing rainforest are deforested. The small and mobile reserve represents comically the attempt to domesticate rainforests for our needs.
1600 Pennsylvania Avenue (2004), a fictional keyboard of 1600 Pennsylvania Avenue, the address of the White House, contains links to the shadow government that reigns inside. In the light of the denial of the reality of climate change diagnosed by scientists of the current US government, the work is highly topical. The White House today pursues an aggressive rollback of nature protecting measurements that had been installed in previous years, in the interest of the unrestrained enrichment of a few profiteers.
In addition, we will present a selection of drawings addressing the issue as well as the signature sculpture Emperor Penguin (2016).
New York–based artist Mark Dion has been witness to these and other ecological changes, and has centered his multidisciplinary art practice on them since the 1980s. He is often grouped with other contemporary artists invested in ecological issues, but unlike many of their activist-oriented activities seeking to expose the destruction, catalogue the environment, or translate scientific data in order to sound the alarm on climate change, Dion has approached the issue more holistically using the multifaceted vehicle of art. "Science is very good at telling us how things work and what things are, but art can put those facts into a context, which is social, historical, and even subjective," states Dion. "Science tells us what things are, but art can express how we as a society and as individuals feel about that. This is far from an uncomplicated form of communication; it can express ambiance and contradictions, melancholy, and a range of very sophisticated human experiences." (in: Flash Art Magazine, #326, June-Aug 2019; quoted from "Mark Dion: Trash on the Beach", by Sarah Lookofsky, DIS Magazine, 2015)
CHRISTINE WANG
The series Leonardo DiCaprio Global Warming Memes are acrylic on canvas paintings of found memes about climate change made with photos of Leonardo DiCaprio. Both the images and text are appropriated.
Leonardo DiCaprio is known for his charitable work that champions environmental causes. Despite his activism, the internet still makes fun of his conspicuous consumption. Are the words in the paintings an accurate depiction of reality? Does Leo really own a yacht? Does he really use a private jet plane six times in six weeks? I don't think it matters. The paintings don't just depict Leo, they depict hypocrisy. The hypocrisy is accurate. If I believe that climate change is an existential crisis and continue to paint, use plastic, fly in planes and ship paintings to Art Berlin via air freight then I am a hypocrite.
A student from India who was studying in San Francisco remarked to me that these paintings reminded him of how he felt when he was learning how to develop photographic prints. He remembered the water shortages of his home and felt horrified while washing the prints in liters of water. He said it was "a waste." He saw the professors at his school that taught ecology and was surprised that they still flew in planes and drove cars. We stood in front of the paintings together and we both felt bitter, sad and empty. We felt this way not because of Leo but because of our own behavior.
– Christine Wang