28/03/2018 – 31/05/2019
Art Basel Hong Kong 2018
Works by Martin Kippenberger and Gang Zhao Booth 3C37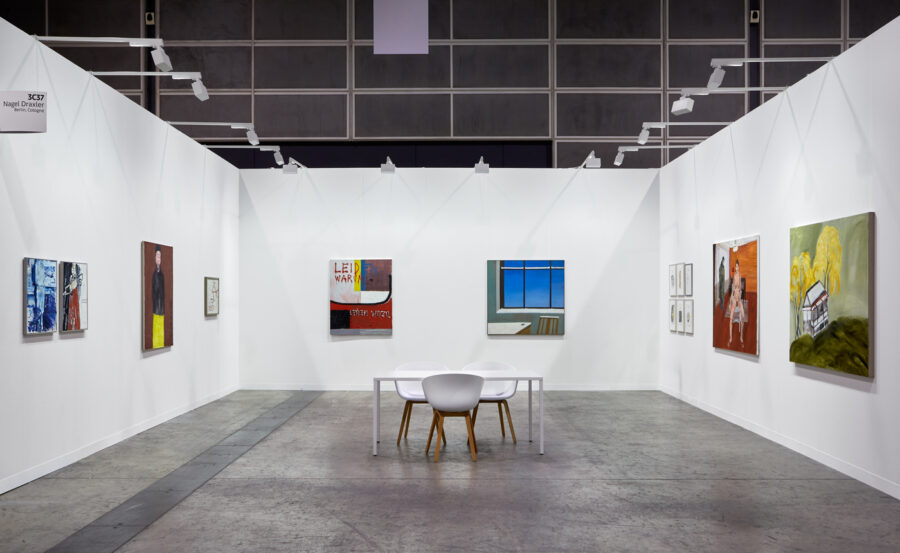 Press Release
In showing works by Gang Zhao together with works by Martin Kippenberger, we would like to point to a certain connection.
Both painters are often described as exceptionally prolific and bitingly sarcastic. In retrospective, Kippenberger's productivity can be seen as a "critical affirmation" of late capitalism, while Gang Zhao's work could be read as a "critical affirmation" of late communism, namely, as once described by philosopher and sinologist Francois Jullien: "capitalist bulimia flanked by the communist party".
As one of the youngest members of the "Star Group", Gang Zhao (born 1961 in Beijing) participated in some of post-1949 China's earliest modern art exhibitions before pursuing his own career in New York. His paintings explore the themes of the legacy of imperial systems, politics and heritage, between both the Asian world and the Western world. Being an artist of bilateral heritage, Gang Zhao reflects on canonized Western positions from a
transcultural perspective. His latest museum exhibitions include "The Road to Serfdom II", 2016 at the Museo de Arte Contemporáneo, Santiago de Chile, "Paramour's Garden", 2015 at the Suzhou Museum, Suzhou, "The Road to Serfdom", 2015, at the Ullens Center
for Contemporary Art, Beijing, a.o..
Martin Kippenberger (German, 1953–1997) was one of the most significant and
influential artists of our time. Kippenberger produced a complex and richly prolific body of work from the mid-1970s until his untimely death in 1997 at the age of 44. Kippenberger's life and work were inextricably linked in an exceptional practice that centered on the role of the artist in the culture and within the system of art. With references, subjects, and sources as wide-ranging and diverse as his production, his work examined and expanded upon that role as he also cast himself as impresario, entertainer, curator, collector, architect, and publisher. Kippenberger drew from popular culture, politics, history, art, architecture, music, and his own life. He was an exceptional appropriator—transforming and challenging his subjects with incisive criticism, self-deprecating humor and formal invention.