Nolan Simon 8 - 10 American Paintings
08/09/2012 – 27/10/2012
Eröffnung: 07. September 2012, 18-22 Uhr
Opening: 07. September 2012, 6-10 pm
Reisebürogalerie
Diko Reisen
Komödienstraße 48
50667 Köln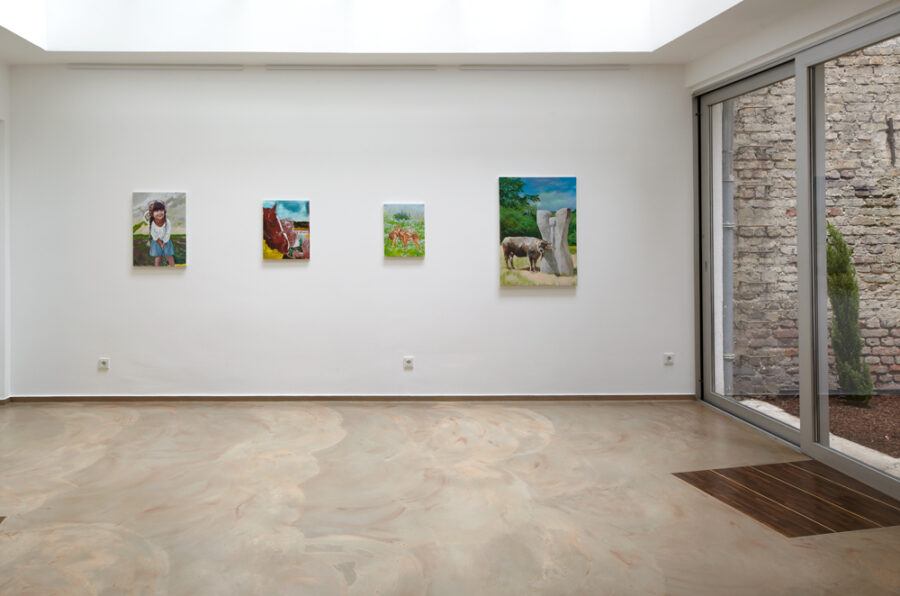 Press Release
"Es ist nicht komplett zutreffend zu sagen, dass diese Bilder wie Insider-Witze funktionieren. Bei ihnen geht es um die Kommunikation durch Bilder mit Menschen und um die Liebe seines Nächsten und was es vielleicht bedeutet etwas zu verstehen, was ein anderer mag. Es geht darum, wie verrückt es ist seinen Nächsten zu lieben." - Nolan Simon
Nolan Simon präsentiert in dieser Ausstellung gegenständlich bemalte Leinwände. Ihre Motive sind - abgesehen von der Kuh aus Dornach - einerseits entliehen aus der amerikanischen "Heimatmalerei" des 19. und 20. Jahrhunderts. Andererseits, wie man vor allem aus den Titeln der Bilder erfährt, nehmen sie Anklang an die erzählerischen Traditionen Amerikas von Cormack Mc Carthy (All die schönen Pferde) bis Nabokov (Lolita).
Es sind Album-Bilder amerikanischer Kunst- und Literaturgeschichte, Landschaften aus den beiden Freiheitsmythen Großstadt und Großnatur. Die verschiedenen "Stile" der Arbeiten könnten aus einem Lehrbuch der Malerei entstammen. Es scheint Simon hier nicht darauf anzukommen, einen eigenen künstlerischen Ausdruck zu behaupten, sondern, so gut wie möglich den irgendwie gewohnten Ausdruck zu treffen. Seine Art der "Appropriation" bemächtigt sich hier eines ganzen gefühlten nationalen Bilderkanons - nicht lediglich einzelner Bildikonen. Die kleinen Bilder sind sehr direkt - sie greifen sich die Themen mit Leichtigkeit und geben sie einfach wieder. Mit Ironie rücken sie sie ins Zentrum einer Gegenwart der noch von Demokraten regierten, wertebewussten USA kurz vor den Wahlen.
Nolan Simon wurde 1980 in Detroit, Michigan geboren, lebt und arbeitet derzeit in New York. Seine Arbeiten waren Bestandteile von Gruppenausstellungen unter anderen in der Thomas Erben Gallery, White Columns, John Connelly Presents, Sculpture Center und Malcolm Glenn Project Space in new York, Cave in Detroit, Public Surface in Stockholm, ASPN in Leipzig und auf einem Platteau in den südlichen Schweizer Alpen. 2011 bestritt er seine erste Einzelasusstellung in der Galerie 47 Canal in New York.
------------------------------------------------------------------------------
"Come to think of it, it's also not totally accurate to say that these paintings are like in-jokes.
They're about communicating with people with images and about loving your neighbor and what it might mean to understand something that someone else loves. It's about how insane it is to love your neighbor." - Nolan Simon
In this exhibition Nolan Simon presents representational works on canvas. Their motifs, except for the cow from Dornach, derive on the one hand from paintings of the American homeland of the 19th and 20th century, and on the other hand as one can observe from their titles, the paintings appeal to the American narrative tradition, from Cormack McCarthy (All the beautiful horses) to Nabokov (Lolita). They are catolog-paintings of American art- and literary history, landscapes of both myths of freedom - the big city and the open country. The different working 'styles' could have been taken from textbooks on painting. It appears that it is not Simon's intention to prove his own artistic expression, but rather to match the
expression everyone is accustomed to. His 'appropriation' seizes the whole perceived canon of national images, not simply certain icons. The small paintings are very direct - they take hold of the themes with ease and give them back again. Ironically, they place them in the centre of a present-day United States, still governed by democrats and values-conscious, right before the elections.
Nolan Simon was born in 1980 in Detroit, Michigan, and now lives and works in New York City. His work has been included in exhibitions at Thomas Erben Gallery, White Columns, John Connelly Presents, Sculpture Center, and Malcolm Glenn Project Space in New York; Cave, Detroit; Public Surface, Stockholm; ASPN, Leipzig; and on a plateau in the southern Swiss Alps. In 2011 he had his first solo exhibition in New York at 47 Canal.