08/11/2014 – 31/01/2015
Eröffnung: Freitag, 07. November 2014, 19-22 Uhr
Opening: Friday, 07. November 2014, 7-10 pm
Reisebürogalerie
Diko Reisen
Komödienstraße 48
50667 Köln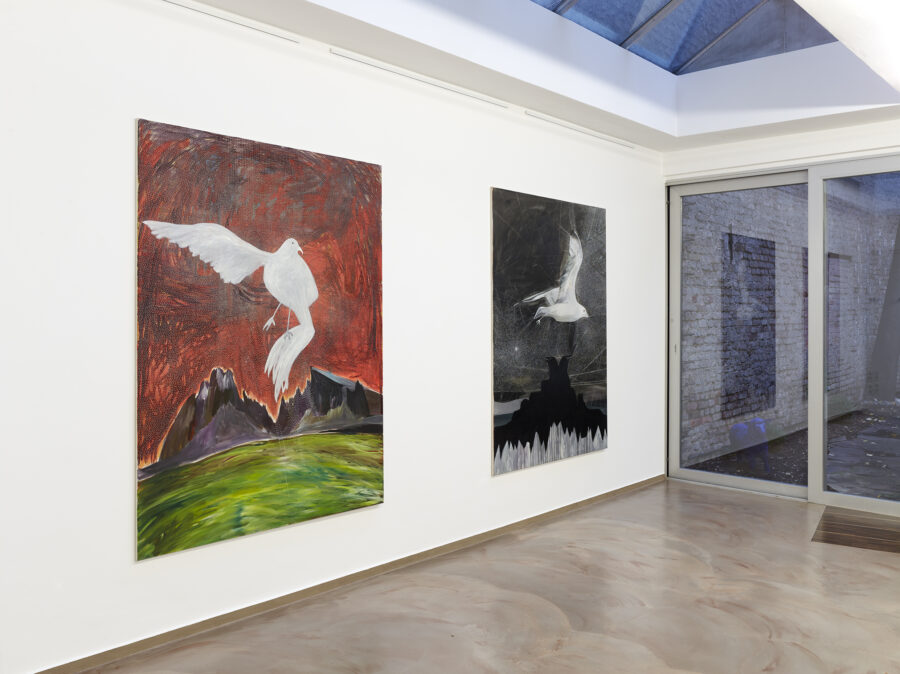 Press Release
Birds
Birds can be, and mean, many things in art. Harbingers of death, or symbols of immortality. Naturalistic or emblematic. Franziska Hufnagel's birds refuse any such categories. Frozen, yet perfectly capable of flight again, not all of them look as if they actually want to fly. They might want to stay and talk to us. Or shit on us. Some bring messages. Un-Phoenix like, they bring their own flames, dive-bomb peace, seek in some proud way to communicate, but only as an eagle may communicate with a rabbit, or a mythological bird with its priests. Hufnagel breaks the cages we tend to put art birds in, freeing them, using paint, to be themselves, a real transgression.
- Brian Reffin Smith
Brian Reffin Smith is a writer, artist and teacher born in Sudbury in the United Kingdom. He lives in Berlin, Germany. Working with computers since the middle 1960s, he was a pioneer of computer-based conceptual art, and won the first-ever Prix Ars Electronica in1987 He has been cited as one of the most prolific letter-writers to the UK newspaper The Guardian, along with the celebrated Keith Flett.
---------------------------------------------------------
Franziska Hufnagel was born in 1967 in Berlin where she lives and works again since 2002.
She studied art from 1991 to 1997 with Hans Baschang at the Academy of Fine Arts (Akademie der Bildenden Künste) in Munich.
Her latest exhibition participations include Wonderloch Kellerland in New York and Berlin, as well as the exhibition of the Tom Biber Collection at Bayerisches Armeemuseum in Ingolstadt.