19/09/2013 – 07/11/2013
Eröffnung: Mittwoch, 18. September 2013, 19-22 Uhr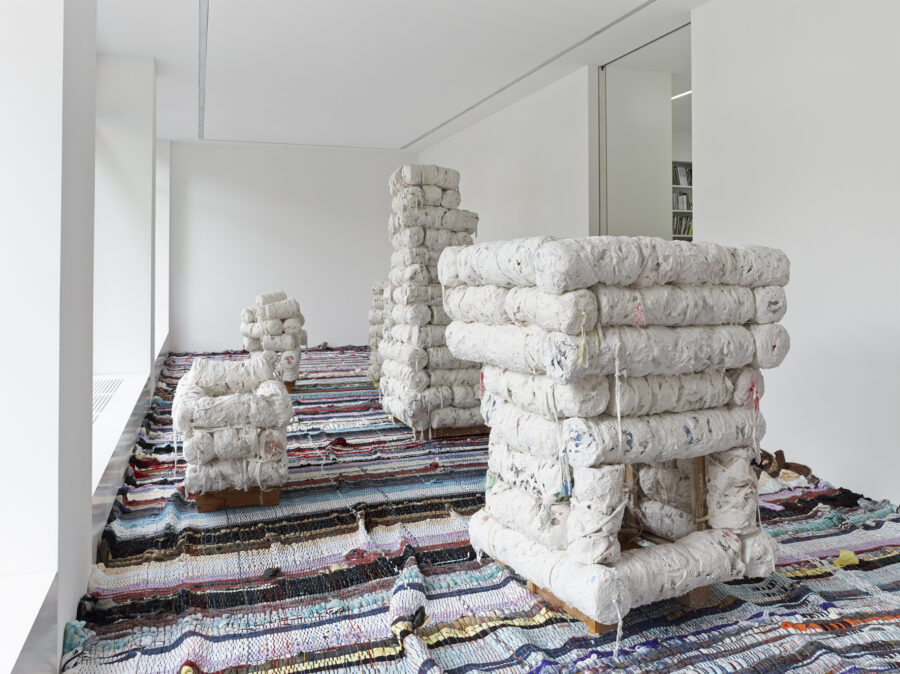 Press Release
Michael Beutler beginnt seinen Arbeitsprozess mit der Erfindung einer Produktionsweise. Aus einfachen Materialien konstruiert er komplexe Maschinen zur Fertigung roh standatisierter Elemente, aus denen er schließlich seine Skulpturen und Installationen baut. In seiner Kunst bleibt die in sie eingegangene Arbeitskraft sichtbar als konstruktive, nicht entfremdete menschliche Produktivität.
Die fünf ausgestellten Skulpturen sind das Ergebniss von Beutlers Experimentieren mit der "Wurstmaschine", die er während seines Aufenthalts im Atelier Calder am Anfang des Jahres entwickelt hat. Der 16 Meter lange Teppich, auf dem die "Wursthäuser" platziert sind, ist von Beutler und seinem Team mit einem riesigen selbst konstruiertem Webstuhl gefertigt worden, der von Oktober 2013 bis Februar 2014 im Musée d'Art Moderne Paris ausgestellt sein wird.
The invention of his own artistic "manufacturing" marks the starting point of Michael Beutler's working process. He constructs complex machines out of simple materials that produce roughly standardized elements serving as parts for his sculptures and installations. In his works the input of labour becomes visible as a form of constructive, unalienated human productivity.
The five sculptures on display in the exhibition are the results of Beutler's experimenting with the "sausage machine" which he invented during his stay at Atelier Calder at the beginning of this year. They are set on a 16 metre long carpet that Beutler, together with his team, fabricated with a giant-sized, self-built weaving loom that will be exhibited at the Musée d'Art Moderne Paris from October 2013 till February 2014.