Joëlle Tuerlinckx 1/MUSEUM : 5 pieces selected for Kabinett Nagel Draxler
10/03/2017 – 15/04/2017
Eröffnung: Freitag, 10. März 2017, 19 – 22 Uhr
Opening: Friday, March 10, 2017, 7 – 10 pm
Nagel Draxler Kabinett
Rosa-Luxemburg-Straße 33
10178 Berlin
Öffnungszeiten / Hours:
Dienstag – Freitag: 11 – 19 Uhr / Tuesday – Friday: 11 am – 7 pm
Samstag: 11 – 18 Uhr / Saturday: 11 am – 6 pm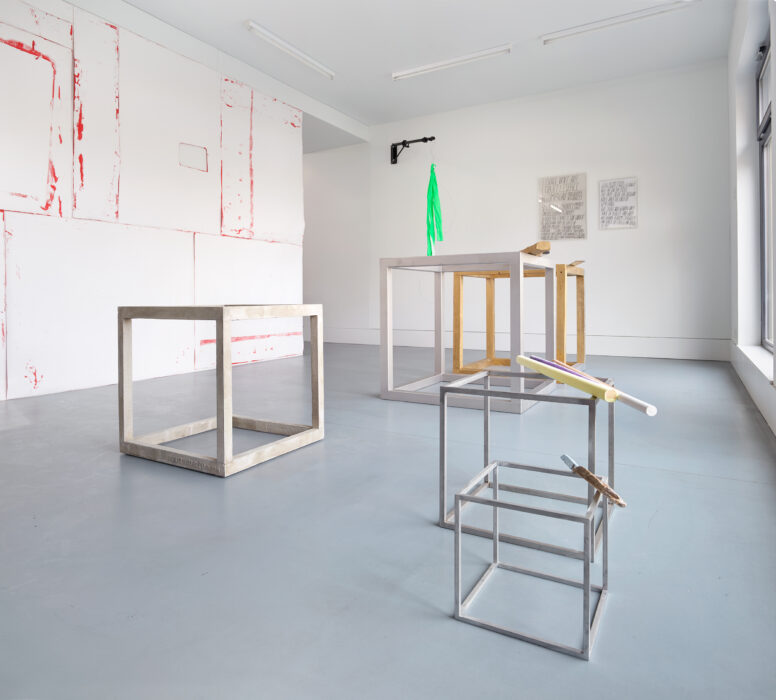 Press Release
Definition 1/MUSEUM:
1/MUSEUM portion of space marked as such, on and to the dimension of a found architectural detail (slab, brick, plinth).
Joëlle Tuerlinckx creates exhibition situations in which objects relate to one another on various levels: materially, in terms of color, formally, art historically…: They form a network with almost endless ties; they define space as changing constellations of views and movements.
In her exhibition "1/MUSEUM : 5 pieces selected for Kabinett Nagel Draxler", Tuerlinckx assembles objects and works, that have been embedded in a number of previous occasions (for example ''SuperBodies'', Musée d'Hasselt, BE, 2012 / Manifesta 10, Hermitage, St. Petersburg, RU, 2014 / Kunsthaus Lempertz, Brussels, BE, 2014 / 'That's it!' (+ 3 FREE minutes), TATE Modern (London), Veem Theater (Amsterdam), STUK (Leuven) and Kaaitheater (Brussels), 2014-2015). Thus, they don't work as quotes from these contexts, but as protagonists of their own ongoing history (their exhibition history, but also their studio history, their storage history, their histories of modifications). This process can be read as both, a critique of the commodification of art objects and a celebration of change as a means of production.
In making her artworks the subjects of history, the artist deliberately, slowly and over a long period of biographical time, erases the hierarchies of artistic production in favor of an equal relation between material and creator.