14/09/2016 – 22/10/2016
Eröffnung: Dienstag, 13. September 2016, 19–22 Uhr
Opening: Tuesday, September 13, 2016, 7–10 pm
Ausstellung: 14. September – 22. Oktober 2016
Exhibition: September 14 – October 22, 2016
Galerie Nagel Draxler
Weydingerstr. 2/4
10178 Berlin
Öffnungszeiten / Hours:
Dienstag – Freitag: 11 – 19 Uhr / Tuesday – Friday: 11 am – 7 pm
Samstag: 11 – 18 Uhr / Saturday: 11 am – 6 pm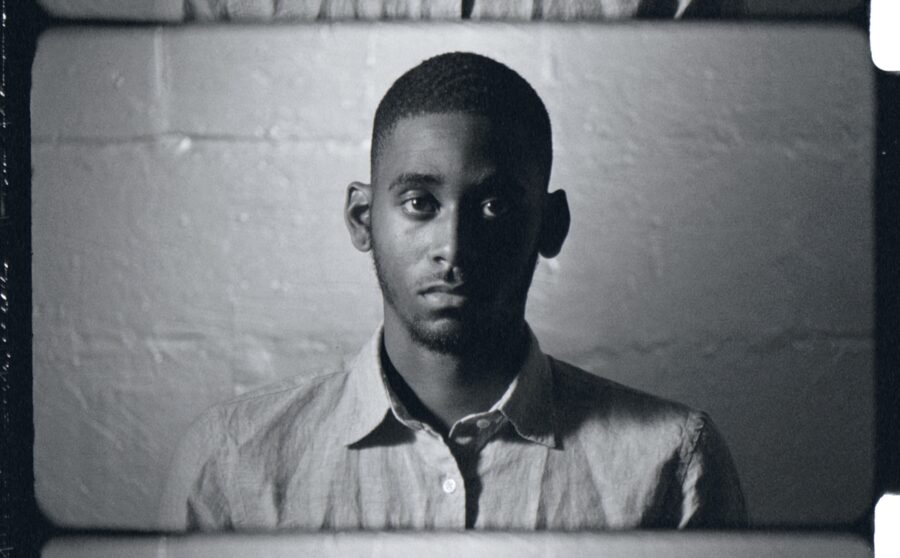 Press Release
A black and white static close-up of the face and shoulders of a black man (mid-twenties?) in a light colored dress shirt who looks directly into the camera. Non-descript dark background. Light coming from his left side illuminates slightly more than half his face. Mouth shut, left eye open. The dark iris of his left eye is also partially cloaked in shadow; it is oriented upwards, toward us. Pleading? But for what? The right side of his long face is one dark shadow, save the tiny white round reflection of light in his right eye, a ghostly emanation from the dark side of the face that unsettles our ability to fully read him. In the film's first half minute, the man's throat moves up and down as he swallows. Nerves? Throughout the four minute silent film, steady heavy breathing makes the man's body rise and fall ever so slowly, pulsing to the pressure of the camera's stare.
Scratches and what seem to be the edges of a film strip rush by before black images take over. A quick flash of light and the face of a second man appears, more fully lit, with shadows covering only part of his left side, from his shaven head down to his chin and neck. A well-lit painted brick wall forms the background and lends the setting an industrial look. This man, also black and also in a light colored dress shirt – is this a uniform? – holds his head back, cocked slightly to the right, as his left eye looks down and past the camera, while his other eye looks straight ahead. He's got us covered. Heavy eyelids twitch occassionally as he seems to refrain from blinking. Was this an instruction? Tears well up a bit in his eyes but they don't shake his composure. He bites his lower lip and holds out for the duration.
Who are these two men?
I don't recognize them, but I do recognize in their portraits the precise formal and aesthetic qualities of Andy Warhol's Screen Tests, those 472 four minute, black and white 16mm silent films made between 1964-66. The Screen Tests are both a series of gorgeous, arresting portrait films and an indispensable documentation of the social world of Warhol's 1960s bohemian art factory. Shot at sound speed of 24 frames per second but slowed down to 16 frames per second for projection, the Screen Tests remove Warhol's sitters' gestures and facial movements from real life and submit them to the analytics and temporal disjunction of slow motion, thus lending their image an ethereal quality. When projected today in a gallery or a cinema, these living portraits – as they were occassionally titled – are also documents of loss, both of many of the people depicted therein and of the broader underground subculture that sustained them.
Can we say the same thing about the portrait films of these two men?
-Marc Siegel, September 2016
Cemetery of Uniforms and Liveries, 2016
16mm, b&w, silent; 9.1@16fps
Kodak Tri-X 16mm b&w reversal stock
HD video telecine transfer
I
Brandon is the grandson of Dorothy 'Cherry' Groce. Cherry was shot by police in her home in Brixton, 1985.
Brandon was born in London and now lives in Crystal Palace.
II
Graeme is the son of Joy Gardner. Joy was killed by police in her home in Crouch End, London, during a dawn raid for her deportation, 1993.
Graeme was born in London and now lives in Tottenham.